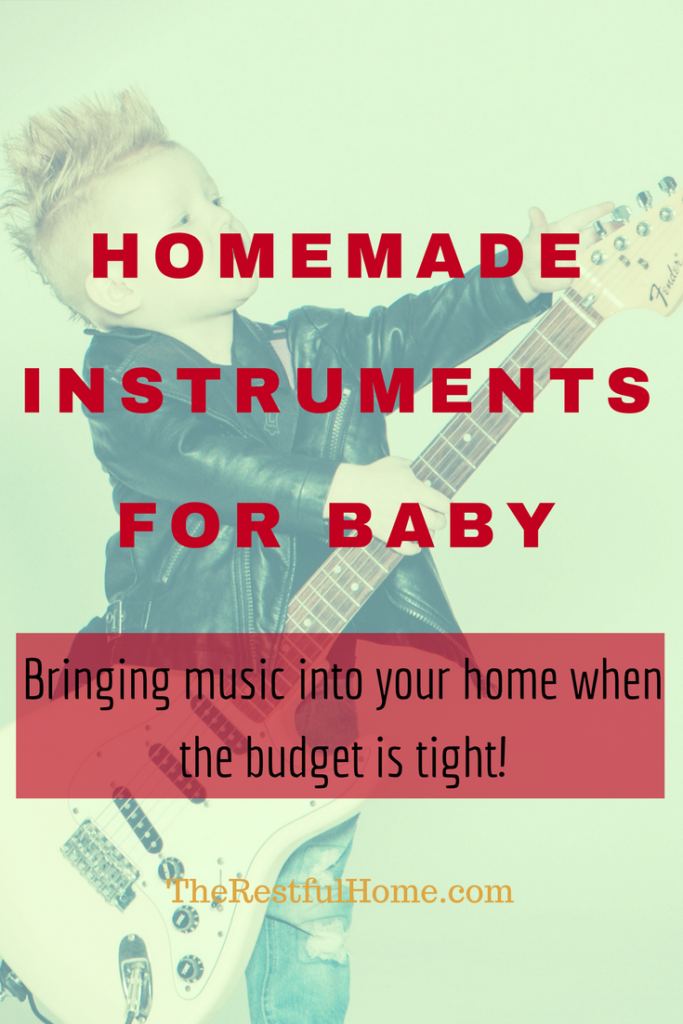 When you'd really like to start teaching rhythm and the idea of making music to your baby, but the budget is tight, homemade is the key. Here are some ideas for homemade instruments for your baby that won't cost you a thing. (You'll be using things that are probably already in your house.) Until your child is about three, he/she is unlikely to be able to play a real instrument, anyway. He'll delight in the tones of stretched-out rubber bands or the rhythm of rice shakers!
DIY Homemade Instruments for Baby
1. Rubber Band Stringed Instrument
Instructions: Find an empty plastic body for the instrument, like a cleaned-out yogurt container or empty tennis ball container. Discard the top. Stretch rubber bands over the entire container, from top to bottom. Pluck the part over the empty vessel, and you should hear a distinct tone. Move the rubber bands, and different tones result as you adjust their tension.
2. Rice Shaker
Save that old spice container! Half-filled with rice, it will make a great rice shaker. If you don't have rice, dried beans, rainbow sprinkles, or even dried lentils are alternatives.
3. Oatmeal Drum
Finished the oats in that tall cardboard container? Make sure that all the oats really have been cleaned out by wiping the inside with a paper towel over the sink. Then tear off the wrapper, decorate, and put the lid back on. Your baby will have fun trying to roll the container over and over, or attempting to open and close the lid. If you want him to actually make music, you will probably have to teach him. Turn some music on and help him beat on time. (On time usually doesn't happen, but anything counts!)
4. Paper Towel Roll Horn
The sound resulting from blowing through a used-up paper towel roll center is more like blowing into a jug than a horn, but your little one will think it's great. And once the roll gets all smushed up–well, it was going into the trash anyway! A fun project for toddlers is decorating the roll before playing it in the band. You could also use a wrapping paper tube, cut shorter, and glue on the last scrap of wrapping paper left on the tube. Leave a little spot blank at the top, or the wrapping paper will get very wet with little-person slobber.
5. Matchbox Guitar
Like on the plastic container stringed instrument, rubber bands are the strings for this matchbox guitar. Instructions are on the Martha Stewart website. Don't have matchboxes? Use an empty tissue box. It has an opening on top similar to a guitar opening. I need to whip this out for Baby J whenever I try to practice my guitar. He tends to get jealous of the attention I'm paying the instrument. 🙂 A tip for parents of young babies–don't worry about buying a pick. You know they're just going to try to eat the pick and figure out how to remove the strings, and you don't want to make this fun musical activity into a stressful moment for the parents!
6. Balloon Shaker
Blow a balloon up part of the way so it gets stretched out. Then let out the air and push dried pasta inside the balloon (let your baby help with this–Baby J loved this part!). I used macaroni. Again, play music and let your baby shake on time with the music. Or just shake the balloon until it reaches the end. (Yes, your baby will break this shaker if she's really getting into this activity. That's why you use larger pieces like macaroni instead of rice.) This is a fun way to break up the monotony of a fussy day at home. 🙂 Here's a video of Baby J playing with his balloon shaker, if you'd like to see the finished product.
7. Whisk Maracas or Clapping Sticks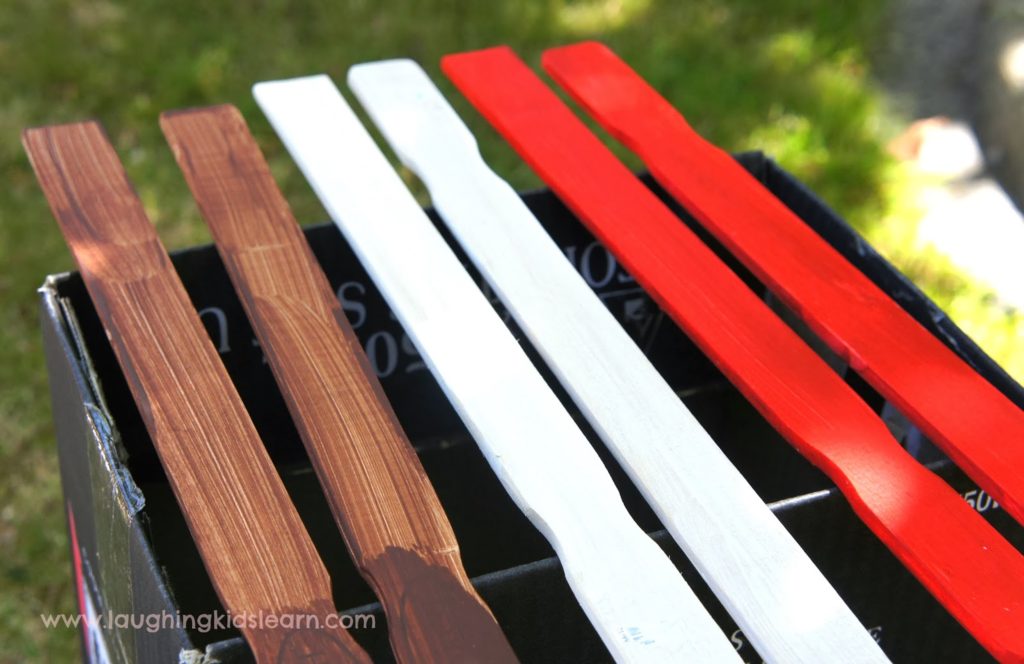 Grab those little bells left over from Christmas and pop them into a whisk to make whisk maracas! (Idea from Kara Carrero.) No bells? Make clapping sticks instead from clean paint stirrers. Just be sure to watch your baby while she plays with the clapping sticks. You don't want her sticking them in her face instead of clapping. 🙂 The picture is an example from Laughing Kids Learn.
Do you have more ideas for homemade instruments for Baby?
Find me on Instagram or Twitter, or comment below with you ideas! Try to think of ideas that will work for children still in the stages of putting things in their mouths and enjoying destruction! 🙂