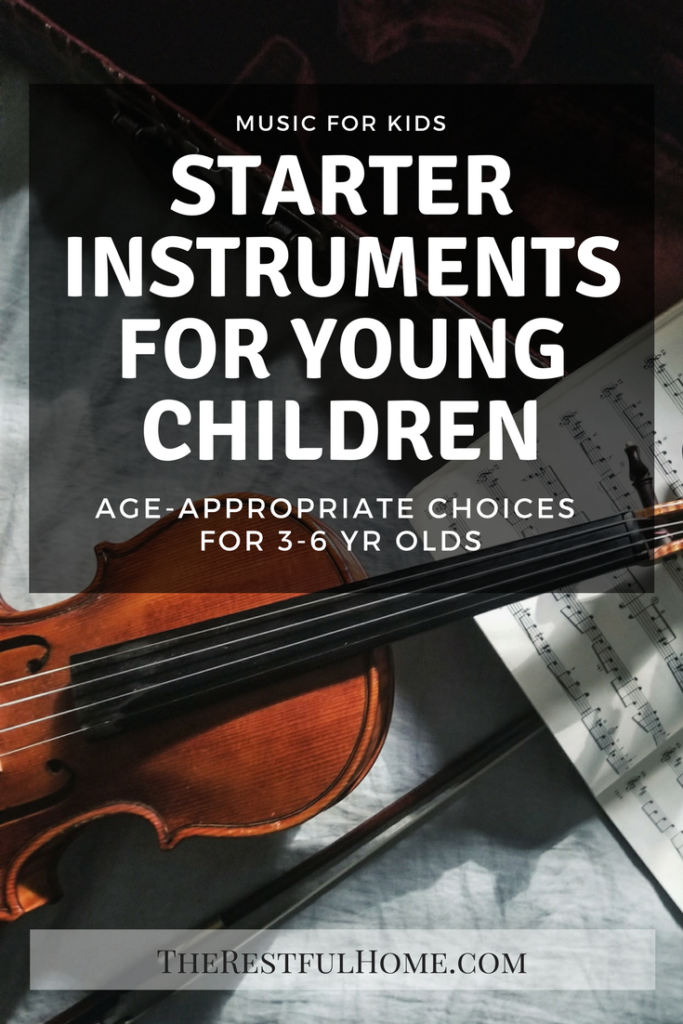 Last week, I wrote about free homemade instruments you can make for your baby. But as your baby moves into childhood, you can begin introducing real instruments and making real music. When I was a small child, I was given egg shakers and a tambourine. However, by the time my youngest brother was a toddler, my family had started a bluegrass band. He got a real instrument: a fiddle. And now, the early start has paid off. He can play several instruments fairly well and is an excellent banjo player with an inborn rhythm that can only be caught, not taught. Most musicians highly recommend starting children early, from ages 3-6.
Young musicians do face some difficulties, though, that adults don't have to deal with. Small fingers can't always reach the strings, small lungs can't provide enough air for wind instruments, or fingertips aren't tough enough. Here are some age-appropriate instruments for your older toddler.
Before choosing an instrument, you might want to have your child listen to several of them being played. Notice which instrument your child really responds well to and gets excited about–that might be "her instrument" and one she will actually want to practice. Make practice time fun! Instead of a long, 30-minute session, consider several ten or fifteen minute sessions through the day of music, interspersed with playtime and reading.
Note: real instruments are only appropriate for a child who knows not to smash and break everything he/she touches! If your child hasn't learned the meaning of the word "gentle," yet, I recommend you wait for another couple years before introducing real instruments.
Starter Instruments for Young Children
1. Violins/Fiddles
Because violins come in smaller sizes (1/4, 1/2, 3/4, and full) and their strings aren't very hard to press down, they are one of the best string instruments for small fingers. You will have to endure the screeching noises of a beginning violinist/fiddler, but I think the beautiful music in coming years is worth the pain now. Your child will need some instruction. If you don't feel up to teaching fiddle and don't have a reliable teacher living nearby, you can use instructional DVDs to help you and your child figure out how to play. If you like bluegrass and are teaching your child fiddle, not violin, check out Homespun Tapes' learning materials, such as Fiddle for the Absolute Beginner, a video of private lessons from Jim Wood. You can buy it on Amazon and can also search for other materials
by Homespun. (Homespun Fiddle Instruction
)
Question: My child is four years old and I want him to start playing the fiddle. Which one should I start him with?
Answer: Unless your child is very large for his age, he should probably start by playing a quarter size fiddle. You can go to a local music store and ask for help, or buy one online. Avoid the cutesy ones that are painted pink or blue and try to buy a solid wood instrument that will have a decent sound. (Here's an example of a decent child's violin that includes many of the necessary accessories, such as a set of strings and a bow.)

2. Tambourines
If you're not ready for a full-fledged instrument, a tambourine is a good instrument for teaching rhythm. My dad used to ask my brother and I to sit on the back porch (I'm sure to keep the noise outside the house) and whack ours on our legs or hands at the same time so we could learn to keep a beat). Playing music on a radio and clapping along with your child will help speed up their natural acquisition of rhythm. A simple, inexpensive tambourine like this one has a skin on top that doubles as a drum. 🙂

3. Banjolele (Banjo Ukelele)
Ukelele blends are now ubiquitous, and for good reason. They make instruments more accessible for beginners, especially children. If your child is enthralled by the sound of a banjo but you're not ready for that much noise (and your child isn't big enough yet to reach the top of the neck), a banjolele makes slightly softer but still cheerful music. Here's an instructional video on YouTube with some chording basics.
4. Ukelele
A ukelele will still be almost as out-of-reach as a guitar for a three-year-old, but for your older child (around 6 or 7), it's manageable. Soft nylon strings are easy for young fingers to press. Again, avoid shiny, plastic, painted-on instruments for a better sound. You can buy your child a pretty toy if he needs to see bright colors. A decent instrument is a precious tool for making music, not a toy.
5. Mandolin or mandolin-banjo
A-style mandolins are big-people instruments 🙂 and your six or seven year olds can easily play one. I wouldn't buy something fancy like an Eastman (which my siblings graduated to) for a young child who might break it. Instead, I'd get something like this little workhorse from Rogue. Beginning mandolin instructional materials abound (for example, THIS DVD).
For a slightly different sound and a much easier touch for your younger children (4-5 years old), try the mandolin banjo. You can get a cheap one like this on Amazon, although if you want a nice one you might talk to your local music store owner to see if she carries this unique instrument. Mandolin banjos usually have nylon strings (soft) and only four of them, like a banjo and unlike the 8-stringed traditional mandolin.
Note: If you aren't sure you like the sound of a mandolin because all you've heard are the weird fast-strumming sounds on a baby keyboard, listen to Chris Thile play "Raining at Sunset." Your life will never be the same. 😉
6. Recorder
Everyone has seen these little baby wind instruments; many of you may have learned to play your first musical notes on a recorder. They're incredibly inexpensive and (much to my surprise) can actually be played at virtuoso levels. If you don't believe me, watch this video. Your five year old won't sound much like a virtuoso, but she will have fun trying to make music with her recorder!
Another wind instrument your child may be able to play are Chinese woodwinds.
7. Drums
Djembes (my husband's drum of choice–I called it "Jimmy" when we were dating!) come in a mini size that's perfect for kids. You can also try bongos, a 14-inch snare drum, or the classical timpani for an older child. Just like with the tambourines, have your child practice keeping rhythm with music on the radio or from your Alexa if you have a smart home.
Good luck! Teaching a child to play music isn't easy, but is a gift that allows him to express himself in ways mere words could never begin to touch.
If you want to hear something that sounds absolutely terrible but shows you realistically what your child can learn in a year if you sit down with her for thirty minutes a day, here is a video of my little brother at four years old, playing the fiddle. 🙂 Nearly a decade later, at age 13, he sounded quite a bit better on the banjo: (Micah and Abby Hartley as guests of Rhonda Vincent & the Rage). My sister is also playing on the video. She started playing guitar at age 7. (A full sized guitar with steel strings–she could barely reach from one end to the other.)
Have tips or stories for starting musicians young? Please share in the comments!
For further reading, here's PBS's article on the "right age" to begin musical instruction.