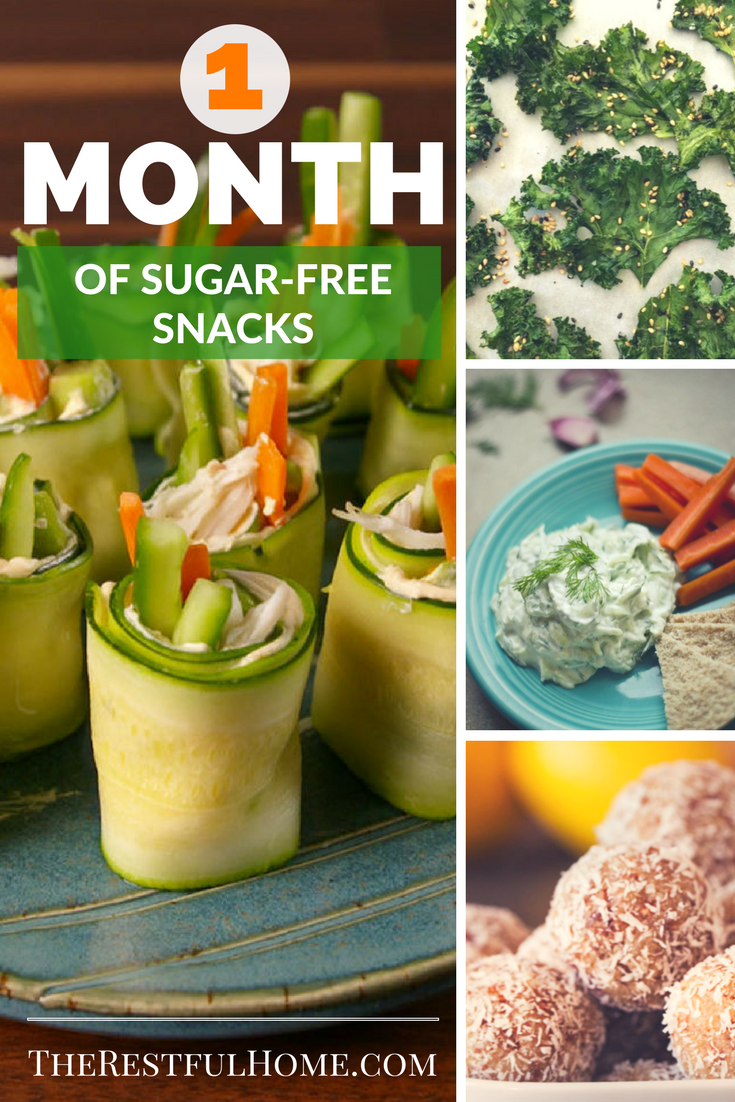 Should you eat multiple meals throughout the day or just three squares? Most dieticians whom I've read have advised around 6 small meals to keep trim and healthy. However, as this article from Born Fitness discusses, the main issue is how many calories you're taking in and what kind of calories those are, not how many meals you break those calories into. Realistically, though, you're going to want a snack sometimes. And, if you're either trying to lose weight, get healthy, or (like me) combat a possible cavity in your teeth, sugar free snacks are the way to go. Here's a list of 31 sugar free, healthy snacks to help you stay strong, with links to recipes!
One Month of Sugar Free Snacks
Start out with a good knife (here's my favorite for cutting up small veggies like carrots), some kind of food processor/blender like this Ninja, and containers for storing your pre-sliced veggies. (Sometimes I use old sandwich meat containers; sometimes, I avoid the plastic by using my glass containers.)
Carrots Sticks Dipped in Hummus

Easy, filling, delicious, and nutritious. (Well–delicious if you like chickpeas!) Hummus is a great dip for any crunchy vegetable, including bell peppers and sugar snap peas.

Guacamole

Not only is guac the best stuff in the world, but the avocado is full of healthy fats. This guacamole (no dairy in this recipe!) isn't weight loss food, but it sure tastes good!

Baba Ganoush with Romaine

Baba Ganoush is the smoky, eggplant version of hummus. I had never heard of it until a friend of mine married someone who is part Lebanese. After she told me about the wonderful, smoky flavors, I had to try it for myself. Yummy! (I think I'd leave the olives out of this recipe, just because I don't like olives much!)
Why romaine lettuce? Strong dipping leaves! 😉 (Yes, you could just use pita or something else bread-y, but the lettuce is healthier.)

Baked Sweet Potato Fries

…or fried. But we're trying to be healthy with this sugar free snack kick, right? 🙂 Here's an easy Paula Deen Recipe: Sweet Potato Fries.

Kale Chips

…Just don't burn them…or overcook them…or oversalt them. 🙂 According to these instructions from Chatelaine, the key to perfect kale chips is a "slow and low bake."

Fruit Salad

Toss together just about any mixture of fruit you have on hand for a yummy, guilt-free, good-sugars snack. Or just keep fruit in the refrigerator. Pre-slicing it for lazy fruit-eaters helps your family members (and you) reach for the fruit instead of the easy cookie or bag of chips.

Lemon Coconut Power-Bites (raw, vegan, gluten-free)

This recipe from Further Food features dates, oats, and lemony goodness. We're not coconut fans, so rolling it in coconut isn't going to happen in our house. But what a treat for sugar-free dessert!

Frogs on a Log

Return to childhood (or let your kids experience this) by cutting up celery sticks and filling the hollows with a layer of peanut butter and topping with little raisin "frogs." Use a natural no-sugar peanut butter to make this snack friendly for your month of sugar free snacks.

Paleo Spiced Nuts

This is a sugar free version of the sweet-and-spicy nuts you see on party trays. 4 spices (chili, cumin, black pepper and salt) and olive oil give the roasted nuts extra warmth.

Cottage Cheese Mixed with Chives and Pepper

Season the cottage cheese with whatever mixture of spices you enjoy (doesn't have to be chives and pepper). Then use it as a dip for fresh veggies.

Fro-yo Fruit Bites

This idea from Delish is another super-easy sugar free snack for people who aren't lactose-intolerant. Yogurt + milk + honey + mixed berries + vanilla = yummy cubes after they've been frozen in an ice tray!

Zucchini Sushi

This snack takes some patience, but gives an impressive finish if you're trying to get picky eaters to join you!

Tomato Basil Salad

Not only is tomato basil salad a scrumptious side dish, but it also makes a yummy mid-afternoon snack. Cut 3-4 large tomatoes into small wedges or large chunks (small enough to easily scoop up with a spoon or fork). Measure about a cup of fresh basil leaves (not a packed cup–and you can get away with less, but if you're a basil lover use the whole cupful). Cut them up enough to release the flavors and toss them with the tomatoes, some balsamic or red wine vinegar (I prefer balsamic), salt, pepper (just a little), 1-2 cloves minced garlic and a dash of olive oil. Allow tomatoes to soak in the vinaigrette for a while before eating. This salad should last several snack-times.
Alternatively, you can do as I do sometimes and just cut up some cherry tomatoes, drizzle balsamic vinegar and olive oil over the top, and sprinkle on some salt and garlic. Voila! A perfect Italian snack.

Sugar Snap Peas Dipped in Asian Sauce

Dip 1 cup trimmed sugar snap peas in a mix of 1 tbsp peanut butter, 1 tbsp orange juice and 1/2 tsp reduced-sodium soy sauce. (Recipe from Self.com.)

Tzatziki (Greek Yogurt Dip)

Tzatziki, although it's so difficult to spell, is easy to love. Refreshing cucumber-yogurt creaminess makes everything taste better. You can save the extra from a Greek meal to use as a dipping sauce for veggies or to spread on toast/pita. Here's a tzatziki recipe from Live Eat Learn.

3-Ingredient Healthy Cookies

So maybe I won't be able to feed these to my husband, but Baby J will love these when he has more teeth for chewing.  Mix 2 medium ripe bananas, mashed; 1 cup of uncooked quick oats, and 1/4 cup crushed walnuts (optional). Cook at 350 degrees for 15 minutes. Recipe from Skinnytaste.com.

Savory Watermelon Salad

Toss 2 cups of watermelon cubes with 1 tablespoon fresh lime juice and ½ teaspoon grated lime zest, then sprinkle with cayenne pepper and 2 teaspoons chopped unsalted roasted pistachios. (From Real Simple)

Banana, Kale, & Almond Milk Smoothie

In a blender, puree 1 medium banana, 1 cup chopped kale, and 1 cup almond milk until smooth. (Another Real Simple recipe.)

Pico de Gallo

I make this all summer with fresh vegetables from our garden. Mix diced tomatoes, chopped fresh bell pepper, chopped onions, a jalapeño, and a couple of minced garlic cloves. Season to taste with salt, cumin, fresh cilantro, a dash of chili powder, and garlic powder. You can eat it with chips or on lettuce with leftover cold black beans/pinto beans.

Pineapple & Banana Smoothie

Creamy, cold, and tropical. This recipe is from AllRecipes.com.

Spicy Avocado

Drizzle lemon juice over each avocado and top with kosher salt. Drizzle hot sauce over each. (Here's the recipe.)

Zesty Quinoa Salad Recipe

Eat it with your meal as a side dish and then use the leftovers for snacks.

Cucumber Sandwiches

Use slices of cucumbers to replace bread or crackers and make tiny sandwiches or rolls as in the photo above. You can use tuna (spiced with a little Cajun seasoning), hummus, avocado, feta and roasted tomatoes, or even a bean dip as the filling.

No-Bake Carrot Cake Bites

The natural sweetness of carrots mixes with sticky-sweet dates to make this taste like dessert while remaining a bona fide member of the sugar free snacks club. Recipe from superhealthykids.com.

Super-Easy Healthy Flatbread

Mix together 2 cups whole wheat flour, 2 TB olive oil, 2 TB honey, 1/2 tsp. salt, and enough water to make the mixture sticky. (Start with 1/2 cup and add as needed.) Then mix in spices you enjoy. I love to use lots of garlic powder and a little cumin, depending on my mood. Press out flat on a baking stone and cook at 350 degrees for 15-20 minutes.

Banana Chips

This easy recipe for DIY banana chips comes from P&G Everyday. Cut bananas into thin slices, dip into lemon juice, and put on a baking sheet that has been sprayed with some kind of oil. Cook at 200 degrees F for about 3 hours. (Turn over once halfway through.) They're done when they are golden brown and crispy. For extra yumminess, drizzle with honey before eating.

Creamy Black Bean Dip

Healthy and delicious with a little bit of kick, this dip would pair just as well with Romaine leaves or cucumber sandwich-slices as it does with chips! Recipe from Once Upon a Chef.

Roasted Chickpeas

A very easy and healthy snack. To keep them from going soft, just omit the olive oil in this recipe.

Sweet Pea Mockamole

No, it's not guacamole. But it's creamy and green and has a little bit of spice. It's a really good way to get your family to eat their peas! Recipe here.

Healthy Trail Mix

Trail mix can be made from just about anything (as can granola, by the way). However, if you want a recipe, here's one from thehealthymaven.com (you can always choose to leave out the extra-dark chocolate, but there's not a lot of sugar in it). Many trail mixes are completely sugar free snacks.

Frozen Blueberries

I think blueberries get sweeter when frozen! So delicious! I've also heard of people enjoying frozen grapes. Flash freeze them on a cookie sheet in the freezer and then put them in a freezer bag. (That way they don't clump together in the bag and you can take out just a few to snack on!)
Finally, the easiest sugar free snacks are just plain sliced veggies and fruit. I need to get better at preparing those ahead of time.
What are some of your favorite healthy, sugar free snacks?
Do you think going completely sugar free occasionally is a good idea, or do you prefer just eating sugar in moderation? How do you define a healthy snack?