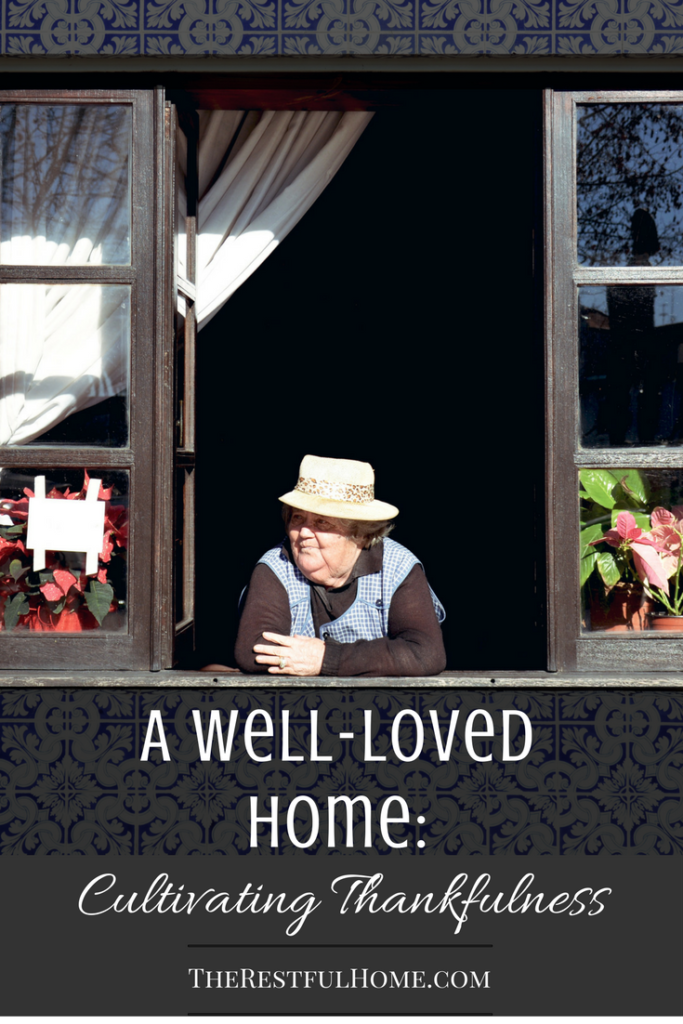 When you move into your first home, you're just grateful you have a home. Your own bathroom, an oven big enough to bake a pan of brownies, a place to hang your clothes up in order. Your home is immediately a well-loved home. You can finally invite people over for wonderful evenings of talk and food, and you can paint the walls whatever color you like.
And then the problems begin. The toilet tank cracks and overflows. Then it stops up, again and again and again, week after week. You mop in the middle of the night, you pay plumbers to visit. (Yes, this happened to us.) Your wall-oven from the 70s doesn't have space for your favorite cookie sheet, much less the Thanksgiving turkey. And maybe you can hang up all your clothes, but there's not much closet space for anything else. To make matters worse, someone bought you a subscription to a fancy home-decorating magazine that takes you on tours of million-dollar homes each month.
Suddenly, your house isn't a well-loved home. Your prince just turned into a frog.
And yet it's the same house. What happened?
The problem isn't your house. The problem is your heart.
How do I know? Because this was me. I was thrilled when we bought our home, and I still love it. But my starry eyes from a little over a year ago got a little toilet water on them during the Plumber Months. I began to see the problems instead of the blessings.
The problem isn't your house. The problem is your heart.
Click To Tweet
No house is perfect. But you know what? Neither are you, and neither am I. Even our houses (or lack thereof) are part of God's work of sanctifying us.
Just a few years ago, I spent a few months living in a room with concrete walls and floor. I fought a battle with a mouse over a fun-sized Snickers bar (chocolate is precious when you're in Honduras, miles away from the closest grocery store). I washed my clothes on a concrete pila (like a washing board built into the water container). A giant slug dragged its way across the wall right over my pillow, a huge rat met a bloody end behind my clothes, and lice did a constant resurrection act in my hair for four months.
Home decor? I thought I was doing good because I taped a map on the wall. I was even prouder of the Scripture-decorated paper I'd taped around a rusty coffee can to make a pencil holder.
How quickly we forget!
"First World problems," I say jokingly sometimes about things like my dryer not working, thinking of the 2014 rainy season in Costa Rica when I struggled to get my clothes dry before the rain started again. And it's true.
"But if we have food and clothing, with these we will be content," wrote Paul to Timothy. (I Timothy 6:8, ESV) He didn't even mention a house, probably because he usually didn't have one. Much of the time he was in prison.
Be thankful for what God has provided.
If it's a concrete room, if it's a tent, if it's a house with a few creaks in its fifty-year-old bones. Be thankful. Make your house a haven, a well-loved home that invites others in to share the love, the contentment, the peace and rest.
What are some ways to cultivate thankfulness for your home?
When you have a problem, think about the alternative.

I don't mean think about the alternative of everything working the way it's supposed to. What I'm trying to say is that the next time our toilet is stopped up or explodes all over the floor, I need to think, "Thank you, Lord, for giving me a toilet." As of 2015, one third of the world's population didn't have access to a flushing toilet, according to the World Health Organization. When I think about complaining about our shallow closets and no pantry (or even serious problems like cracks in the foundation), I should remember that even over ten years ago (and the situation hasn't improved), at least 100 million people worldwide were homeless.

Don't spend too much time eyeing other people's houses.

It's okay to get some inspiration on Pinterest for fixing up your home. There's nothing wrong with browsing a magazine and admiring the risky color choices made by interior designers in L.A. But when curiosity turns to envy, it's time to close the magazine and go have fun with your family. (Edible playdough, anyone?)

Ask God to help you make your home a tool in His service.

A house becomes a home when a family loves each other within its walls. "Family" can mean husband and wife and children, or it can mean a single woman and her friends. Some of my most treasured memories were made in a creaky single-wide where I lived during college days. The only decor I spent money on was a $10 chalkboard (which I still have, by the way, and plan to use in Baby J's play area). My friends wrote me messages on that chalkboard when they came for spaghetti and Bible study or for "study" sessions. Homes are meant to be havens of hospitality and love, not showcases.
Join me as I make our house into a well-loved home that is filled with thanksgiving!
And remind me when toilet water gets in my eye that I'm incredibly blessed to have a toilet at all.
Love,
Anna