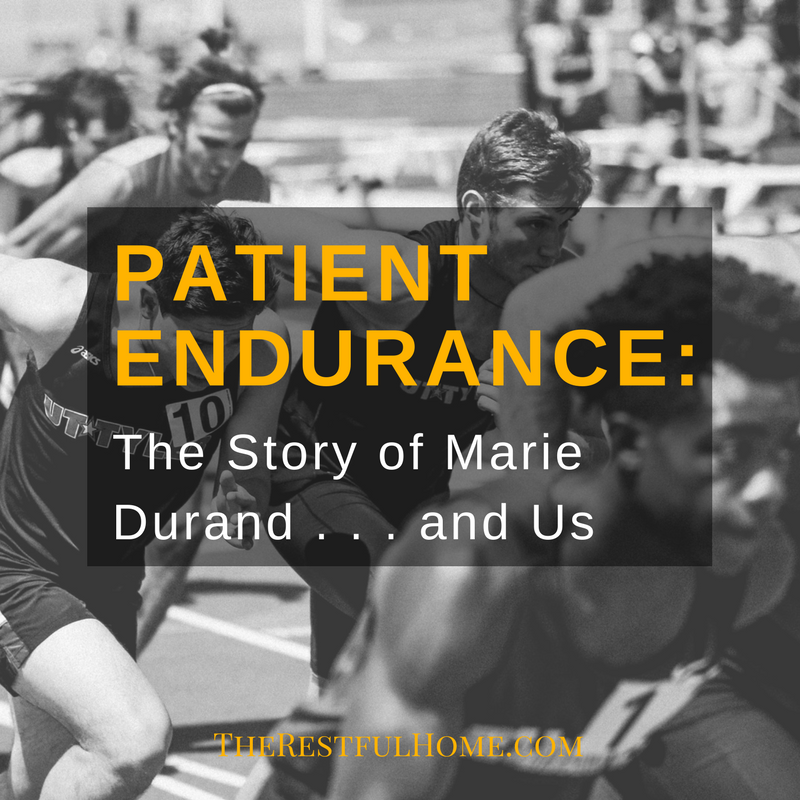 "…I know your works, your toil and your patient endurance…" Rev. 2:2, ESV
"If my Savior calls me to seal his Holy Gospel with my blood, his will is perfect." – Pierre Durand.
Pierre Durand, a Huguenot pastor in Roman Catholic France, did seal the gospel with his blood. His captors executed him in 1732.
While Pierre's words call us to a greater commitment to God's Word, to protecting the truth of the gospel, it is his younger sister's patient endurance and faith that shock us. Teenaged Marie Durand's relationship with Pierre made her a prime suspect, so authorities arrested her a month after her brother's arrest. When Marie refused to recant, she had to walk into a cold prison tower. Cold in the winter, hot in the summer, the tower had a small circular opening at the top that let in little light. However, when snow or rain fell, it drifted or poured into the tower onto the prisoners. Marie lived in that tower for THIRTY-EIGHT faithful years until her release in 1768.
(Some think she was 14 years old at the time of her arrest, but this article cites a baptismal registry that reports her birth in 1711, making her 19 when she was arrested by French authorities.) 
Here's how her story went, according to Karl Olsson:
"[Marie Durand] was asked to abjure the Huguenot faith. She was not asked to commit an immoral act, to become a criminal, or even to change the day-to-day quality of her behavior. She was only asked to say, "J'abjure." No more, no less. [But] she did not comply. Together with thirty [or forty, according to Huguenot Heritage] other Huguenot women she was put into a tower by the sea… For 38 years she continued… And instead of the hated word J'abjure she, together with her fellow martyrs, scratched on the wall of the prison tower the single word Resistez, resist!

"…We do not understand the terrifying simplicity of a religious commitment which asks nothing of time and gets nothing from time. We can understand a religion which enhances time…But we cannot understand a faith which is not nourished by the temporal hope that tomorrow things will be better. To sit in a prison room with 30 others and to see the day change into night and summer into autumn, to feel the slow systemic changes within one's flesh: the drying and wrinkling of the skin, the loss of muscle tone, the stiffening of the joints, the slow stupefaction of the senses–to feel all this and still to persevere seems almost idiotic to a generation which has no capacity to wait and to endure."
              (quoted from Olsson's Passion by John Piper in Future Grace, p. 171)
The temporal hope that tomorrow will be better. 
Is that the only kind of hope you have? Is that the only kind of hope I place my trust in? A temporal hope, bound by the passage of time? Do I have no patience?
Often, as I'm watching my one-year-old son react to the minor trials in his life, I see a stark picture of impatience. A one-year-old can easily conclude that starvation is imminent when the banana takes too long to peel. He writhes with panic and anger when the shirt collar doesn't immediately pull all the way over his head. Patience isn't something he even had a small portion of at birth. We have to train him to be patient.
But isn't that how we often look in God's eyes?
We haven't found a job in the 3 months of searching. We can't overcome a persistent health problem. Maybe we can't seem to find a church that has the perfect preacher, the perfect music, and the perfect people. (Where are those perfect people, anyway? In the Garden of Eden?) We are dissatisfied with the house we live in because it's too small, too leaky, too cold, too squeaky. Our children aren't obedient, even after hours and days and years of training. Or maybe we can't have children at all because our wombs are closed. Our family members refuse to listen to us, to find reconciliation with God and others. Our boss's leadership style causes constant miscommunication and frustration. One of our teenaged children is restive, rebellious, sullen.
We want our lives to look good NOW. Yes, I have faith in God. I want to have faith that He will fix all my problems today. But does God truly promise such a quick fix?
Let's look at Scripture.
James 5:7-11, ESV
"Be patient, therefore, brothers, until the coming of the Lord. See how the farmer waits for the precious fruit of the earth, being patient about it, until it receives the early and the late rains.  You also, be patient. Establish your hearts, for the coming of the Lord is at hand. Do not grumble against one another, brothers, so that you may not be judged; behold, the Judge is standing at the door.  

"As an example of suffering and patience, brothers, take the prophets who spoke in the name of the Lord.  Behold, we consider those blessed who remained steadfast. You have heard of the steadfastness of Job, and you have seen the purpose of the Lord, how the Lord is compassionate and merciful."
Matthew Henry comments on these verses: "Let us serve our God, and endure our trials, as those who believe the end will crown all."
Hebrews 10:36, ESV
"For you have need of endurance, so that when you have done the will of God you may receive what is promised."
Trials will always come. Patient endurance of these trials, however, does not come easily or naturally. The tower doors eventually opened for Marie Durand after 38 years. But she had no idea when that day would come. A dank, stinky tower for 38 years? This was the 1700s, and creature comforts were few. Prisoner's rights were nonexistent. Rather than complain, though, she chose to encourage her fellow prisoners.
"For 38 years, Marie served as nurse and spiritual leader. She read psalms, encouraged the dying, sang hymns, and prayed daily. She also acted as official correspondent, penning letters for those who could not write, and sending petitions to government officials informing them of the prison's horrible conditions and petitioning for release and assistance. Many of her letters still exist today." –AmazingDiscoveries.org
Marie didn't need to see vindication and joy in this life. She chose to look toward the future joy set before her, like the saints mentioned in Hebrews 11.
Hebrews 11: 13-16, ESV
"These all died in faith, not having received the things promised, but having seen them and greeted them from afar, and having acknowledged that they were strangers and exiles on the earth.  For people who speak thus make it clear that they are seeking a homeland. If they had been thinking of that land from which they had gone out, they would have had opportunity to return.  But as it is, they desire a better country, that is, a heavenly one.

"Therefore God is not ashamed to be called their God, for he has prepared for them a city."
Can we join Marie in patient endurance?
When work is hard and our coworkers find every way to discredit us or claim our work to be their own, can we trust that God will make all right at the end?
When others lie about us and our reputations are smeared before relatives, friends, and business associates, can we remember that it is God who vindicates?
If we, like Marie, find ourselves in a place where someone asks us to deny our faith or go to jail, will we trust that eternity with God is better than temporal comfort on earth?
Will we choose to be ashamed on earth or ashamed in heaven, before Christ and His angels?
Mark 8:38, ESV
"For whoever is ashamed of me and of my words in this adulterous and sinful generation, of him will the Son of Man also be ashamed when he comes in the glory of his Father with the holy angels."
We must ask ourselves these questions. Seek patient endurance, brothers and sisters. Let us remember that God's reward is better than earth's. Amen.
Seek patient endurance, brothers and sisters. Let us remember that God's reward is better than earth's.
Click To Tweet
Read the rest of Marie's story here and here.
What I'm reading right now (follow me on Instagram to exchange book notes!):