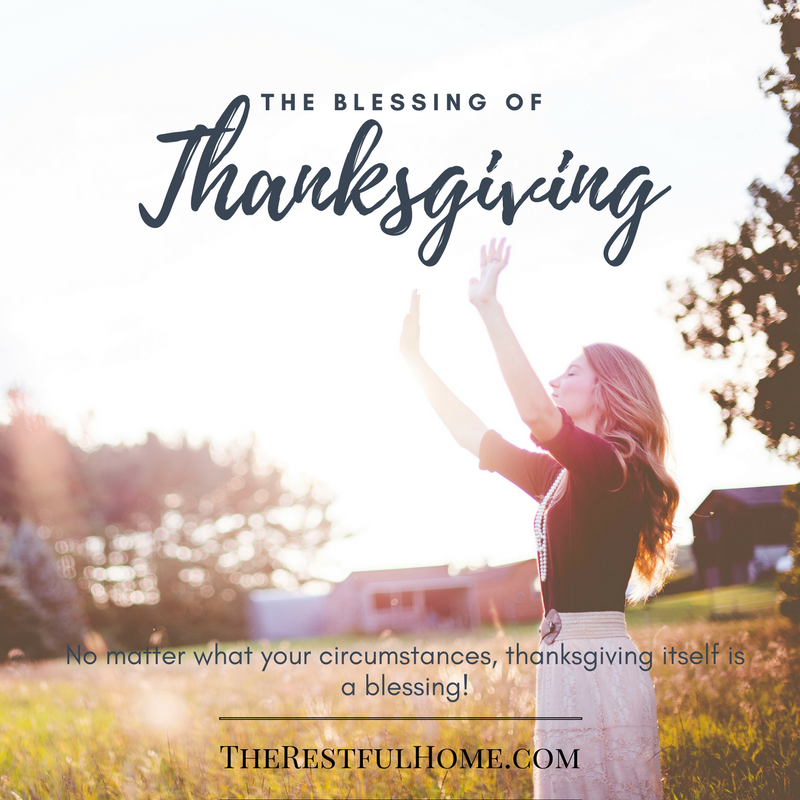 I love that the U.S. has a day set apart for giving thanks. Of course, being the materialistic nation that we are, we immediately follow it with such frightening shopping marathons as Black Friday and Cyber Monday. But at least we get the reminder, if only from the name, "Thanksgiving," to take a moment for true thanksgiving.
For What Should We Give Thanks?
Some of us are going through difficult times. The normal topics of thanksgiving may be hard for us to focus on right now.
"Be thankful for your family!" That's the give-'em answer when we take time for thanksgiving before diving into the mountains of food. But what if your family is not really a bright spot in your life right now? What if family provides your very hardest trials? A teenaged child is rebelling, a mother or grandmother thinks the doctors are trying to kill her, a husband just confessed to unfaithfulness, a brother is estranged and everyone blames you…
Family can be hard.
"Be thankful for where you live!" Amen and amen. But sometimes the foundation is crumbling, the pipes are clogged, or you have mold in your walls. Sometimes you live in an apartment with creepy neighbors who watch you every time you open your door, or where the heat doesn't work and the apartment manager couldn't care less.
Your living situation can be hard.
But how much do our circumstances matter?
"A thankful heart," writes John MacArthur, "is one of the primary identifying characteristics of a believer. It stands in stark contrast to pride, selfishness, and worry. And it helps fortify the believer's trust in the Lord and reliance of His provision, even in the toughest times. No matter how choppy the seas become, a believer's heart is buoyed by constant praise and gratefulness to the Lord."
The Bible talks a lot about thanksgiving, and I know I've written a lot about it as well. Thanksgiving is an area in which I can always grow, no matter the season.
What Does the Bible Actually Say about Thanksgiving?
The Bible doesn't give only a few specific things for which you should be thankful. Time after time, the writers God inspired tell us one thing:
Be thankful for EVERYTHING.
What? Seriously?
Let's look at what the verses say:
 Therefore do not be foolish, but understand what the will of the Lord is.  And do not get drunk with wine, for that is debauchery, but be filled with the Spirit,  addressing one another in psalms and hymns and spiritual songs, singing and making melody to the Lord with your heart,  giving thanks always and for everything to God the Father in the name of our Lord Jesus Christ,  submitting to one another out of reverence for Christ. Eph. 5:17-21
When? Always.
For What? Everything.
And let the peace of Christ rule in your hearts, to which indeed you were called in one body. And be thankful. Col. 3:15
Be thankful for what? Paul doesn't say. Have an attitude of thankfulness, he's telling us.
The one who offers thanksgiving as his sacrifice glorifies me;
    to one who orders his way rightly
    I will show the salvation of God! Psalm 50:23
Thanksgiving is an acceptable sacrifice to God.
Thanksgiving for whatever God has done.
For the Lord comforts Zion; he comforts all her waste places and makes her wilderness like Eden, her desert like the garden of the Lord; joy and gladness will be found in her, thanksgiving and the voice of song. Isaiah 51:3
Thanksgiving itself is a blessing, Isaiah implies.
An attitude of thanksgiving does something for us.
…give thanks in all circumstances; for this is the will of God in Christ Jesus for you. I Thess. 5:18
When? All the time, in all circumstances.
Having a thankful heart, no matter what our circumstances, is what matters.
It doesn't depend on what kind of family we have, what kind of home in which we live, or how good our boss is to us at work. Thanksgiving is a blessing, and if you have a thankful heart, that in and of itself is something for which you can give thanks right now!
Thanksgiving is a blessing!
Click To Tweet