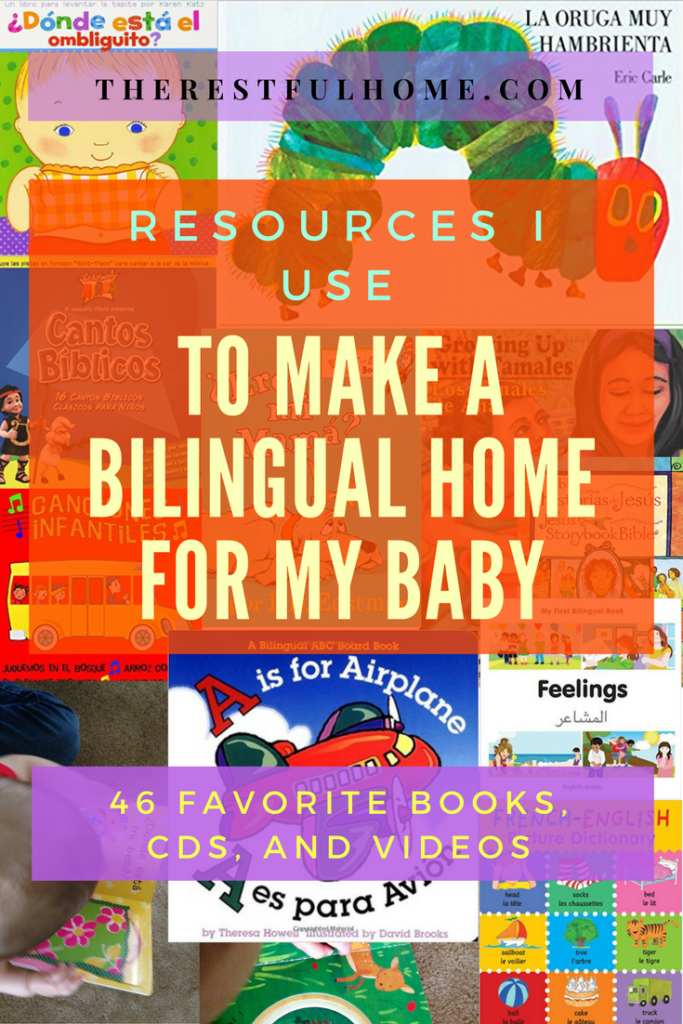 If you read my bilingual baby post, you know that we are attempting to raise Baby J in a bilingual home. (Even though my husband and I are both native English speakers, and I am only an intermediate Spanish speaker.) How successful we will be remains to be seen!
The most important element of our strategy will be me persevering in speaking Spanish to Baby J. However, surrounding him with Spanish music and words should help both him and me as we grow together in our knowledge of vocabulary. (For example, when I read him a book about animals, I find new words as well. I didn't have any reason to know that guinea pigs in Spanish were cobayas!)
I hope this list of resources we use or will be using is helpful! Most of them are for Spanish, but I'll include a few from other languages. Even if you're not going to teach your child to speak any language other than English, research suggests that children exposed to other languages may be better communicators.
Books and Music for a Bilingual Home (Spanish)
Most of these were bought on Amazon.
Baby Books:
Baby Music
Toddler-Preschool Books:
Many of the following books are on my list either to buy or to search for in the library.
Toddler/Preschool Music
Cantos Biblicos A friend of mine from Mexico told me about this CD. Remember all those songs from VBS/Sunday school? (Like, "Jesus Loves Me" or "The walls of Jericho came tumbling down"?) They're in Spanish, too! 🙂 (Thanks, Marisol!)
Cantos Bíblicos Con Acción More music from Cedarmont Kids. These are the action songs you might remember from Sunday school.
De Paseo… Para Niños 

Silly songs sung sweetly by children. My alliteration was an accident until I got to "sweetly." I just couldn't resist. 🙂 These are more like the baby nursery rhymes.
Toddler Video
Baby Einstein – My First Signs This is for sign language; I actually bought a Baby Einstein DVD before J was born that has multiple languages on it, including French and Hebrew. I had to buy it used then and can no longer find it on Amazon. Right now, I just stick it in the computer and face it away from J. In my opinion and due to other research I mentioned in this article, he's developmentally unready to handle television. This way, he can hear the other languages, although I question its effectiveness because of lack of consistency and my own inability to reinforce any languages other than English and Spanish. I think, to be honest, that the multilingual exposure makes me feel good more than it keeps his neurons from pruning themselves, which was my initial goal. 🙂 Just a note: a bilingual home is much easier to maintain than a multilingual home, for obvious reasons. 🙂
Learn Arabic for Children: Animals Around Us: Baby Einstein Arabic I haven't looked into this one closely yet, but Baby Einstein has several Arabic-learning options that aren't  Q'uran focused like so many of the Arabic language learning apps, for instance.
The easy thing about Spanish, French, and other languages that use the same alphabet as ours (with some extra letters) is that it's so much easier for us to learn to read in those languages. There are books for other languages, but you have to have studied to be able to read them to your child. That's why for Arabic, Mandarin, Hebrew, etc. I just play music/speaking in those languages. I think it's wonderful for children to see other lettering systems, but for now I'm not going to confuse both Baby J and I with that. However, here are a few examples of books in other languages, including those that are impossible for us to read unless we've studied the language intensively.
The My First Bilingual Book a Day Series has several choices in English + another language, including:
I only chose one example from the series to link to in each language. There are usually several books available bilingually in each. (So feelings, numbers, vehicles, etc.)
Then, of course, there are the beautiful tiny children's picture dictionaries from a couple different series:
(Look up individual languages on Amazon to see what you can find.) For older children, the Oxford Picture Dictionaries are wonderful. For example, this Haitian-Creole one. I used them all the time with my Level One ESL students. But I wouldn't sit down with one of them and a drooling, grasping little baby like my J. 🙂
One Extra Step
We naturally talk to our babies and explain the world around them anyway. So it's just one extra step to add another language. If you can't remember the word for refrigerator, for example, in Spanish, stick a colorful Post-It Note with the word written on it to the refrigerator. Not only will you be teaching yourself, you'll be reenforcing your child's literacy in a second language as he grows up and sees you glancing at your household notes. In addition, you'll have a very visually bilingual home. (Especially if you do the same with English words.)
Will the books, music, and videos help us in making a bilingual home? We'll see! Wish me luck! And please share with me if you're attempting the bilingual journey!