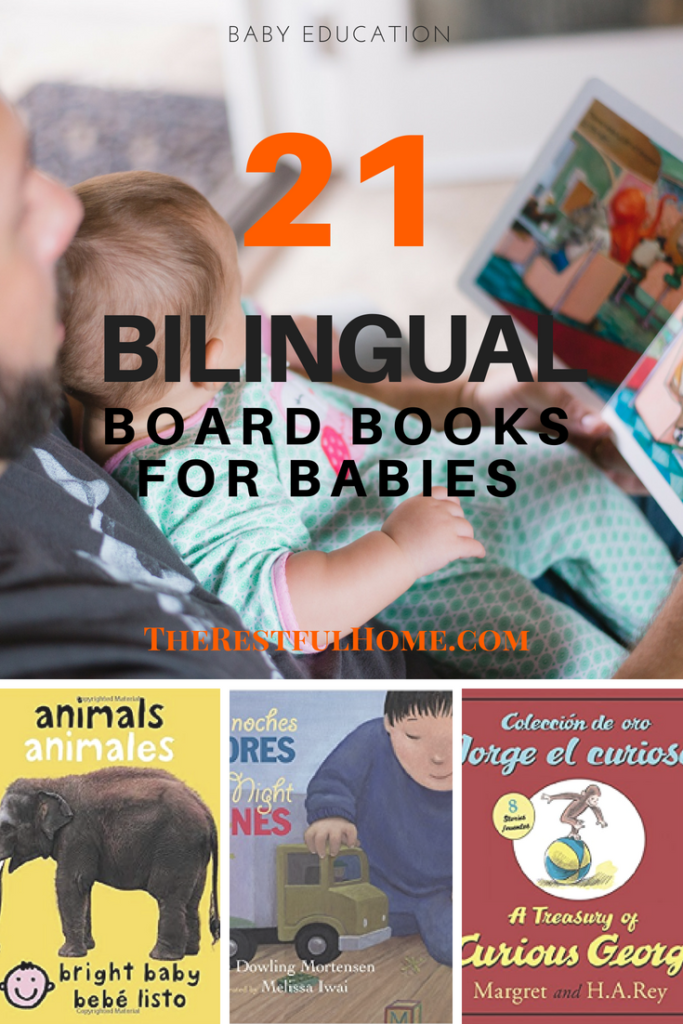 In earlier posts, I discussed our desire to give our child a bilingual home and gave a list of some of the resources we are using. When only one parent (or neither parent) is fluent in the desired second language, you have to rely mostly on books and other resources to help you teach your child. Here are more bilingual board books in English and Spanish for your child. All are appropriate for very young children (babies and toddlers). (The sturdy construction of these bilingual board books means drool doesn't destroy the pages and it's harder for little hands to tear pages when trying to turn them.)
After listing the resources, we link to both English and Spanish pronunciation guides available on YouTube.
21 Bilingual Board Books for Your Child (Part II of Resources, focusing on Spanish)
If you missed part one of bilingual resources, you can access the list here. If it's sign language you're interested in teaching, here is the list of free resources for signing with your baby. A follow-up post will suggest resources for older toddlers and young children who no longer need the sturdy construction of a board book.
For Babies and Young Toddlers (Bilingual Board Books)
1. I Love My Daddy Because…lets both baby humans and animals finish the sentence with their reasons for loving their fathers. "He sings me songs/He keeps me warm," etc. A second bilingual book is dedicated to mothers: 2. I Love My Mother Because / Quiero a mi Mama Porque. 
3. I Like It When…/ Me gusta cuando… is set up like the previous books, with simple, repetitive sentences. Perfect for moms and children just learning Spanish or English, this board book has very basic but useful phrases and features a cute penguin.
4. My First Spanish Word Board Book Young babies aren't listening for stories yet; they just enjoy pointing at the pictures and turning pages. Our little guy loves the bright photographs in this book, and it's a good vocabulary reenforcement for us parents who aren't native Spanish speakers.
5. Mi Primer Libro del Cuerpo/My First Body Board Book Another DK book with clear photographs and good vocabulary.
6. Bright Baby Bilingual Touch & Feel: Words Touch and Feel Books are difficult to find in Spanish/bilingual format, especially in bookstores. I was excited to find this one on Amazon, along with this really inexpensive one on numbers: 7. Bright Baby Bilingual Touch & Feel: Numbers.
8. Amazing Animals/ Animales increíbles If you have a child who is fascinated by all animals (like my son!), this bilingual picture book is a perfect read-aloud. There are also several others in the series available in board book version, such as:
9. My Favorite Food/Mi Comida Favorita,
10. All Around Me / A Mi Alrededor, and
11. All About Me/Todo Sobre Me.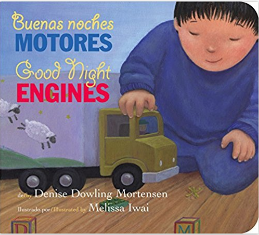 12. Dónde esta la oveja verde? / Where is the Green Sheep? A favorite, repetitive board book for babies.
13. Huggy Kissy/Abrazos y besitos A baby book about a family's love and affection.
14. Buenas noches motores/Good Night Engines Perfect for little ones who love engines! 
15. ¿Qué hacen las ruedas todo el día?/What Do Wheels Do All Day? Another bilingual book for children who love things that go. (A Spanish-only book that these children would also enjoy is 16. Construir Una Carrera.
17. Dos en el zoologico/Two at the Zoo Rather than being an exact translation, the text rhymes in both languages.
18. I Love You Sun/I Love You Moon: Te amo Sol/Te amo Luna
19. Oli/Ollie Any child who has waited for a little brother or sister to be born will appreciate this story.
20. La gallina grande/Big Fat Hen
21. Animals/ Animales We love all the bilingual books in this beautiful, sturdy series, which I mentioned in our first resources post. I can let Baby J read these books on his own in the carseat without having to constantly supervise to make sure pages aren't torn.
Reading is the Key!
Reading aloud to your child makes such a difference to his or her future literacy/academic progress. And reading bilingual board books from such an early age means your child will get a head start! (You may also learn some new words–I didn't know the Spanish word for guinea pig before reading some of these books to my baby boy!)
If you could use some help with pronouncing Spanish, you can watch a native speaker explain the Spanish alphabet and the different sounds made by each letters. HERE'S THE VIDEO. Trust me, it's way simpler than English! Spanish actually follows its own rules.
¿Es dificil para ti pronunciar bien el inglés? Aquí esta un video que te ayudará con la fonética inglesa.
Let us know in the comments if you have favorites you think should go on our next list!