Happy New Year! How many of you decided to set yourself a reading challenge for 2017? How many of you then stuck to your guns and read all the books you'd planned to read?
After hearing about the Challies Reading Challenge from my friend Amber, I decided to follow along with many of the categories he set in his 2017 challenge. For example, read a biography, a classic novel, a book about history, one targeted at your gender, a book with at least 400 pages, etc. Did I finish every book I'd planned to read? No. However, I added books I hadn't considered reading and that Challies had no category for, such as gardening books! 🙂 And my selections at times reflect that fact that I'm a woman (although I didn't review it, my "gender-targeted" book for the reading challenge was Let Me Be a Woman, a classic by Elisabeth Elliot.) So that makes this list really A Woman's Favorite Books of the Year.
Not all of the books I read this year would I wholeheartedly recommend.
For example, while Under the Overpass, by Yankoski, was an interesting concept and read, the conclusions drawn at the end of the book could be seen as simplistic/not Christ-centered enough. I would have been much more sympathetic to those conclusions when I was a social-gospel-loving 19-year-old. (Under the Overpass tells the story of Yankoski living as a homeless man for a while so he would be able to see life from that perspective, and as a way of serving the Lord.) I still volunteer at our local soup kitchen, so I am always interested in reading about the homeless. But I think the gospel has to be more important than the soup.
Having said that, here is a list of my favorite books from my 2017 reading challenge. I recommend them to anyone interested in expanding your thinking and/or growing in your faith.
Best Books of 2017 Reading Challenge
Category: History
The Warmth of Other Suns; Isabel Wilkerson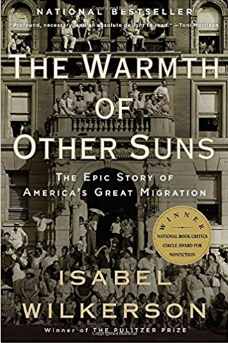 This stunning, even epic book follows the African-American migration North primarily by telling the stories of three different migrants. Wilkerson writes beautifully, and, most importantly, opened my eyes to some of the reasons for present-day conditions in ghettoes and even ethnic divisions.
"The measure of a man's estimate of your strength," he finally told them, "is the kind of weapons he feels that he must use in order to hold you fast in a prescribed place." (See more quotes from the book in this article.)
Category: Biography/Memoir
John Adams was a bit of a stretch for me, as a non-spiritually focused biography that was hundreds of pages long. However, I found it well-worth my time. By reading it, I gained insight into the United States's beginnings, as well as great respect for Mr. Adams's wife, Abigail. Their dedication to letter-writing, constant improvement of the mind by reading and thinking and debating, etc. was challenging to this member of the millennial generation.
The Secret Thoughts of an Unlikely Convert; Butterfield
Rosaria's writing sounds like that of an English professor I had in college. Her prose is elegant, uncluttered, and eminently readable. Her story, while known for its picture of the collision of the gay community with the Christian community, is a great encouragement toward hospitality and the "living life together" that creates evangelistic and discipleship opportunities. Hands-down one of the most "necessary" books on my list this year.
Bruchko is a memoir I've long wanted to read. It didn't disappoint me at all. While it's an exciting, enthralling story, Mr. Olson doesn't paint an idealistic picture of bringing the gospel to an unreached people group. Life is hard in the jungle, and he doesn't try to either cover that up or magnify it.
Evidence Not Seen; Darlene Deibler Rose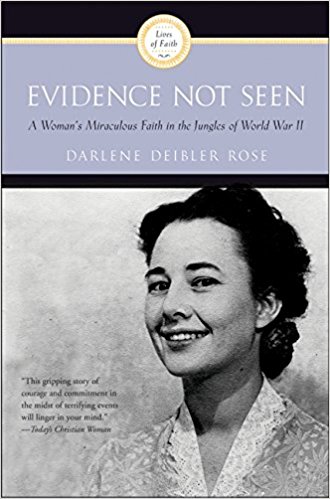 I found out about this book after "casting my nets"–I asked on Facebook for friends to share favorite biographies, and several people suggested this one. Reading Darlene's story, I felt so humbled by her patience and joy in very hard places. (She and her husband, missionaries to Papua New Guinea, were interned separately by the Japanese during WWII.) Evidence Not Seen reminded me somewhat of the Corrie ten Boom story.
Marriage to a Difficult Man; Dodd
This chronicle of the lives (and especially, the sweet marriage) of Jonathan and Sarah Edwards was a must-read for me. I stuck it in the "book of your choice" category Challies provided. While Dodd's writing and perhaps her subject are not as "page-turning" as the memoirs just mentioned, this biography is a very solid work on a couple who did much for the kingdom. (Jonathan Edwards was one of the men used by God to begin the Great Awakening in the American colonies.) I came away with a deep respect for Sarah, especially.
Here I Stand: A Life of Martin Luther; Bainton
Since this year was the 500th anniversary of the Protestant Reformation, I really wanted to spend some time looking into what the Reformation really accomplished. Biography is my favorite way to learn about history, and this book gave me so much insight into the ideas prevalent during the time. The writer doesn't present Luther as a perfect hero; he does, however, show Luther to be a man who dared to do and say much for His Lord.
Honorable Mentions:
 Goforth of China (an absolutely wonderful missionary biography that I think is out of print but can be found used) Pilgrim of the Heavenly Way (another missionary biography with great stories about God's work in China), Reckless Abandon (David Sitton's missionary memoir) & Hillbilly Elegy (an emotionally hard read that's not for young readers but one that sheds light on the breakdown of the family in present-day "white" America).
Category: Puritan Writers
The Mortification of Sin; John Owen
I have been afraid to read this book ever since I heard of it. Owen is notoriously difficult to read because of his interminable sentences. (He can make a sentence last 2 pages, by dint of using many dashes and commas.) But when I decided to accept a "reading challenge," I thought, what better time to tackle this book? To my surprise and very great delight, I found that this book is actually very accessible and rich in wisdom. I flew through the book in just 2 days, sometimes with my baby crawling over and around me as I lay in his play area with book open. You can find this book for free online and have it delivered to your Kindle or your phone's reading app.
Precious Remedies Against Satan's Devices; Brooks
My friend, Jacky, recommended this short read (also available online). It's old-style writing but probably the most accessible writing I've seen yet from the Puritan writers. And I highly recommend it to anyone who will take the time to download it (for free here) and meditate on its truths.
Category: Christian Living/Theology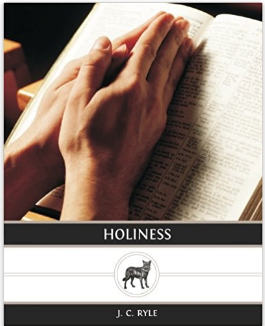 I have wanted to read this book for several years, and now I finally have–although I spent most of the year on the task. It wasn't that the book was boring. Ryle has so much wisdom to share that I simply couldn't process more than a few pages per day on most days. Open this book now and you'll see pages of underlining! I highly recommend this book to all who are willing to think deeply about God's holiness and our own need for His work of sanctification in our lives.
Expository Apologetics; Voddie Baucham
This lucid, well-laid-out book about defending the gospel by expositing Scripture (not by looking around for external proofs) is a quick, worthwhile read. If you've heard Pastor Baucham speak, you'll recognize his "voice" in these pages.
The Discipline of Spiritual Discernment; Tim Challies
I had already bought this book before I'd ever heard of the Challies Reading Challenge, but it fit very neatly into this challenge! 🙂 This book was one of the last I made my way through this year, but I gleaned so much insight from it. I really appreciated his focus on what is good (Scripture) in this teaching on discernment, rather than the focus on what is bad (false teachings prevalent right now) that so many discernment ministries spend their entire time pointing out. If we don't know what real money looks like, we won't recognize counterfeit. If we don't know what truth looks like, we won't recognize lies.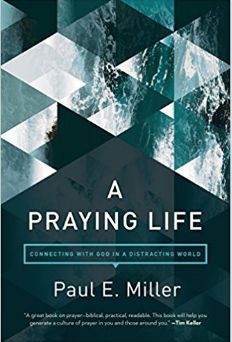 Hands-down the best, most practical book on prayer I have ever read, A Praying Life has the added benefit of being a very easy read. I highly recommend it to anyone who would like to grow in prayer and faith.
*
Category: Fiction
Trust Dickens to fill a book to the brim with exaggerated characters that will make you laugh and then reflect ruefully on human nature. I can't believe I had never read this gem before now.
This novel wasn't originally on my reading challenge, but when I saw that it was about human trafficking, I couldn't resist. And I'm so glad I took the time to read it. I love it when fiction is used to shine light in the dark!
Honorable Mentions:
The Napoleon of Notting Hill, which has to be one of G.K. Chesterton's strangest stories, is also full of quotable quotes! The Book Thief, by Zusak, was my choice of book aimed at children/teens. I was surprised to find it such a hauntingly, beautifully written story. It made me cry. Of course.
Category: More Honorable Mentions
Commentary:
I read Calvin's commentary on Colossians this year, as well, but didn't learn as much from it as I had hoped. I'm sure that's my fault for skimming when I should have been thinking deeply.
Current Issue/Viewpoint with Which I Disagree
A friend had given me Washed and Waiting, a memoir advocating celibate lives for Christians with homosexual desires. I thought it was interesting, but disagreed with his use of the term "Christian homosexual." I felt that it was using sin to define Christians, which shouldn't happen. We don't say, "Christian liar," or "Christian pornographer." As Christians, we're defined by who we are in Christ. So, Hill's memoir was an enlightening but not favorite part of this year's reading challenge.
Marriage
Finally, I also read What Did You Expect? by Paul David Tripp. Full of helpful, God-centered advice on marriage, it still doesn't compare to Each for the Other, in my opinion. (Yes, Chapell's book on marriage is still my favorite, even though it was probably the first one I ever read on the topic!) It's very slow, sometimes difficult reading. Why do I say that? He gives lots of examples of marriage conflicts at the beginning of many of the chapters, to the point that my husband and I just wanted to put the book down at times because we became so discouraged by what marriage could look like. However, he closes with a beautiful focus on worship that I greatly appreciated.
In the gardening category,
my favorites among quite a few I checked out of the library and read were Edible Landscaping (more on that HERE) and Square Foot Gardening, which was incredibly helpful despite the original version's sad lack of colorful pictures. 🙂
How about you?
What were your favorite books of the year? Did you participate in a reading challenge? I'd love to hear recommendations for next year.