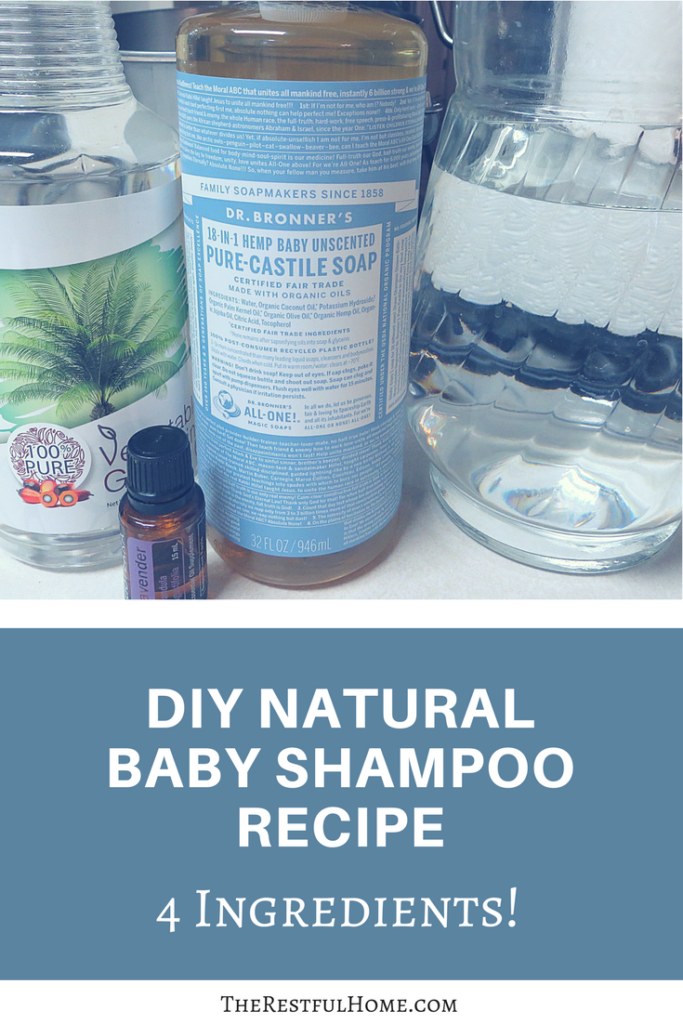 Not sure you want to pour a mixture of unknown ingredients on your baby's head anymore? Tired of paying eight dollars (or more) a bottle for shampoo you don't love? Try making DIY natural baby shampoo!
I haven't been convinced yet that everything has to be homemade and natural.
Honestly, if at the end of each day your baby is alive, his diaper has been changed and he's been fed, I think you're a success as a mom. Hugs are more important than all-organic baby food.
In my case, although I wanted to do things like make my own natural baby shampoo before my son was born, there were other things in my radar. (Like being really sick, or getting the house ready for baby.) However, now I have a little more time. And I really would like to reduce the number of chemicals we have in our home, especially if Baby J might be exposed to them.
Here are a few of the ingredients on his old shampoo bottle:
Water, Cocamidopropyl Betaine, Peg80 Sorbitan Laurate, Sodium Laureth Sulfate, Sodium Chloride, Peg150 Distearate, Sodium Benzoate, Tetrasodium Edta, Fragrance, Polyquaternium10, Butylene Glycol, et cetera.
Honestly, it's not as full of strange ingredients as some baby shampoos, but I was ready for something simpler. So, I collected my ingredients, basing my recipe on ones from My Merry, Messy Life, Don't Mess with Mama,  and a couple other random sites. 🙂 I also made quite a bit of the natural baby shampoo/body wash because I was using a large container. (I used a large refill bottle for hand soaps after going around the house filling all our soap dispensers. My original plan was to use his old bottle, but his daddy wanted to make sure this stuff didn't irritate his skin before we finished using the old baby shampoo. And since when Daddy is home he gives J a bath more often than Mama does, I agreed.)
DIY Natural Baby Shampoo / Baby Body Wash Recipe
2 cups pure castile soap (I chose Dr. Bronner's Baby Unscented soap, which I bought from Amazon. It's super-concentrated, so you can water it down quite a bit, which helps make up for the initial cost.)
5 teaspoons vegetable glycerine (The purpose of adding vegetable glycerine is to moisturize Baby's skin and hair. This bottle is a huge 32 ounces, so you can use it for multiple natural body care recipes. Just for fun–did you know it's on the ingredient list for Halo ice cream?)
12 drops lavender essential oil (Or other soothing essential oil. I used expensive, high-quality oil for this since it touches Baby J's skin, even though it's just a little bit. I bought much cheaper oils for my natural/green cleaning products.)
1 cup filtered water (no chlorine) or distilled water
Add the water after all the other ingredients into the bottle, shut the lid (or screw it closed if you're going with the Mason jar route) and shake well.
That's it!
I've seen recipes that add fractionated coconut oil for extra moisturizing, but "pure castile soap" has coconut oil in it. Castile soap isn't lard-based and doesn't have added lye. However, you may notice when using it on your baby that his skin feels clean but not as soft as with some commercially sold baby shampoos. If that bothers you, you can always add a bit of the coconut oil. (Not too much, or he'll have oily hair.) 🙂 Some recipes also add aloe vera.
Here's what's on the ingredient list of the bottle of castile soap I bought:
Water, Organic Coconut Oil, Potassium Hydroxide (none of this remains after the soap is produced, according to the company), Organic Palm Kernel Oil, Organic Olive Oil, Organic Hemp Oil, Organic Jojoba Oil, Citric Acid, Tocopherol
Since this particular blend had extra olive oil, I didn't want to add even more oils.
Below is the recipe in an easy graphic you can save for future reference.
What about the cost?
Since you have to buy all the ingredients on your first time of making natural baby shampoo (unless you happen to have vegetable glycerine on hand!), your first bottle will seem expensive. But the cost will get lower with each successive bottle.
I'm not allowed to post prices with affiliate links (see our Disclosure Policy), but you can click on the links to figure out how much you will spend per bottle of baby shampoo. Here's a picture of how much I had left of everything after my first batch (although the essential oil had already been half used up before I made the shampoo). The foaming bottle is the freshly made shampoo. As you can see, I used a way-too-big bottle for only 3 cups of baby shampoo/body wash. But that made it super easy to mix up!
Extra notes about natural baby shampoo / body wash:
The consistency will probably be much thinner than you're used to in traditional baby washes. Just use a little on a wet washcloth and it will suds up great!
Even with the few drops of essential oils (and you don't want to use too much of this to avoid burning your baby's eyes), the smell of the castile soap comes through on Baby's skin. It smells clean, so that's not a bad thing. But it's not as sweetly fragrant if you're comparing it with the expensive store-bought stuff.
Our baby has pretty sensitive skin–we have to use baby detergent, etc. But this natural baby shampoo / body wash hasn't irritated his skin at all after nightly use.
Let us know if you try the recipe!