Several weeks ago, we had the privilege of hosting a family of 15. I called on friends to help with ideas for large-batch but also incredibly tasty soups, and I got so many ideas I had to share them here. (Along with some of my own favorites.) Thanks, ladies of the Theology Group! 🙂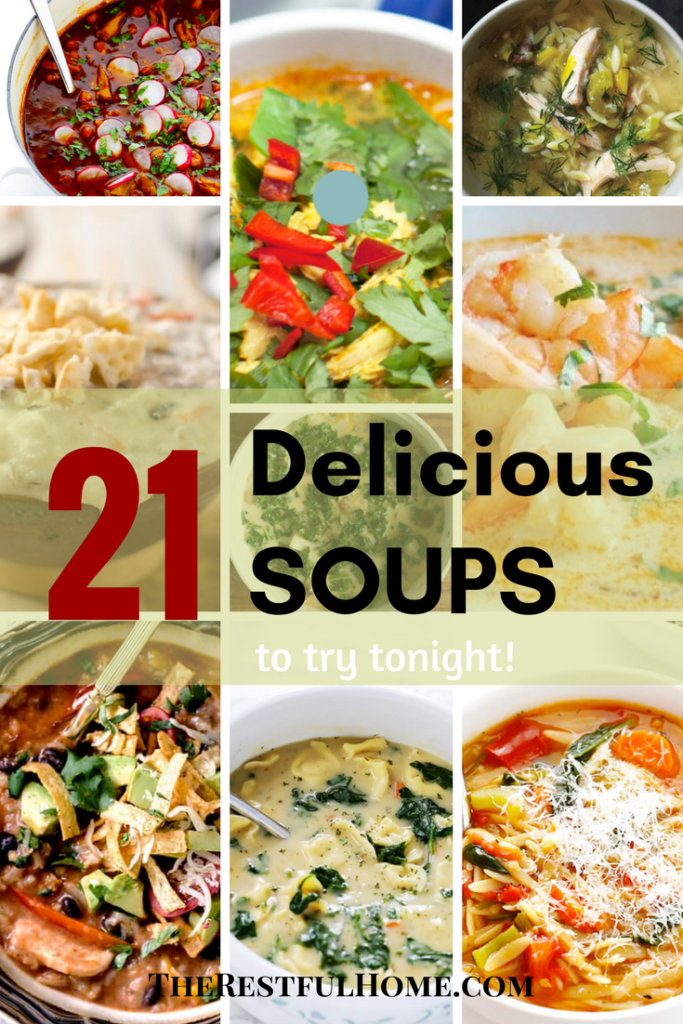 Hosting a large group of guests? Soups are often the way to go for feeding a crowd–but the word "soup" rarely sounds exciting. However, soups can be delicious, flavorful, and memorable. Make your hospitality just a bit simpler with these hearty recipes that can feed a crowd without disappointing in flavor.
Twenty-One Soups: The Recipes
1. Chicken Tortilla Soup
This soup never fails to deliver on strong flavor and personality, especially if you include lots of toppings! Here is Pioneer Woman's version of this standby.
2. Tikka Masala Soup
Modern Proper's recipe for the Indian-inspired Tikka Masala Soup is whole30 compliant.
3. Pozole Rojo
Mexican flavors pack a punch–in this recipe by Gimme Some Oven, for a price that will be friendly to your food budget because of the use of pork shoulder.
4. Italian Sausage and Corn Chowder
My mouth waters just reading the title of this wonderful recipe by Simply Sated. Bread bowls are probably not the way to go with a large group of guests, though.
5. Italian Orzo Spinach Soup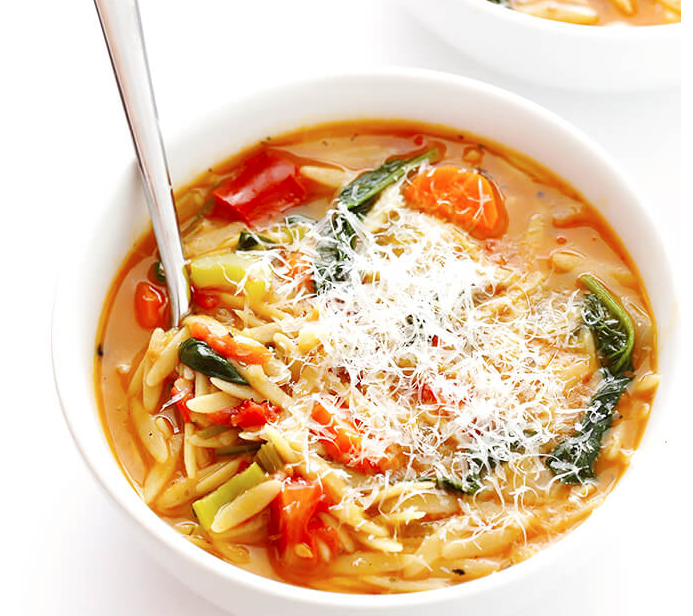 Italian flavors always bring a soup to life. This recipe comes from Gimme Some Oven, as well.
6. Coconut Chicken Corn Chowder
Another delicious chowder recipe, this one from Cooking Classy, has Thai and Hawaiian inspiration.
7. Zuppa Toscana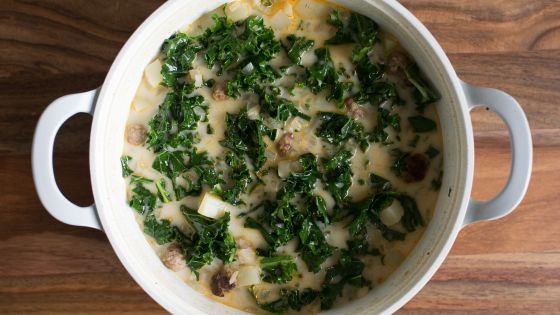 This Olive Garden copycat recipe comes from Genius Kitchen. With both sausage and bacon for flavoring, you can't go wrong.
8. Creamy Crockpot Chicken Wild Rice Soup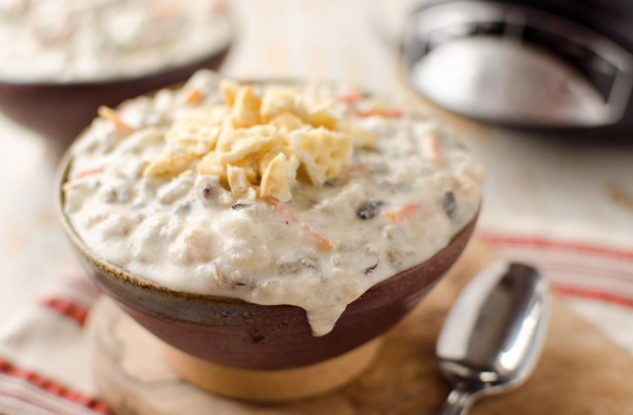 The Creative Bite offers this super-creamy and nutty (via the wild rice) recipe for an easy crockpot soup.
9. Creamy Tortellini Soup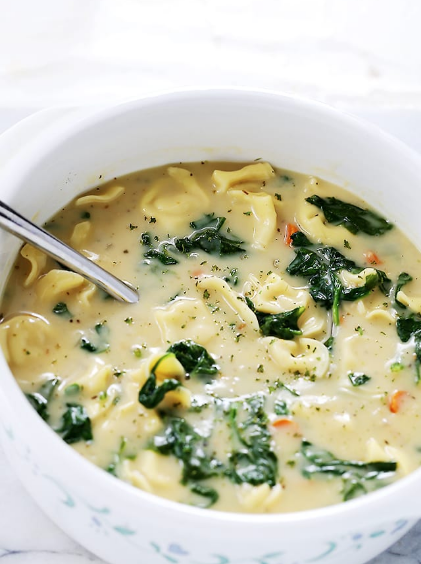 While we are talking about creaminess, this recipe from Diethood (of all places) offers all the creamy wonderfulness possible. It's incredibly filling while keeping the vegetarians in your friends group happy.
10. Lightly Creamy Potato Soup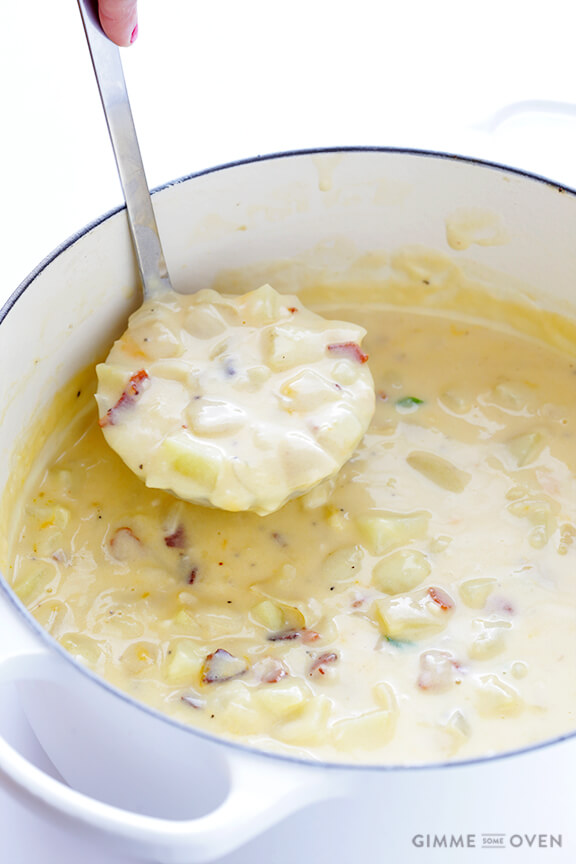 This recipe for potato soup from Gimme Some Oven contains milk but not as much as some of the extremely lactose-heavy options common with potato soup.
11. Lactose-Free Potato Soup
This incredibly easy recipe from Taste of Home is the option I usually go for to help out those of my family members who are slightly lactose-intolerant. However, I start out with browning bacon. 🙂
12. Sausage, Potato and Kale Soup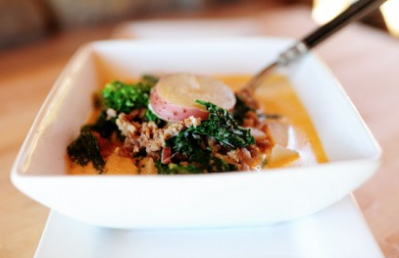 A scrumptious recipe posted on Tasty Kitchen. Sausage and kale pair incredibly well.
13. Coconut-Curry Chicken Soup
A delicious Asian-inspired chicken soup from My Recipes, this recipe is on my to-make-soon list!
14. Italian Wedding Soup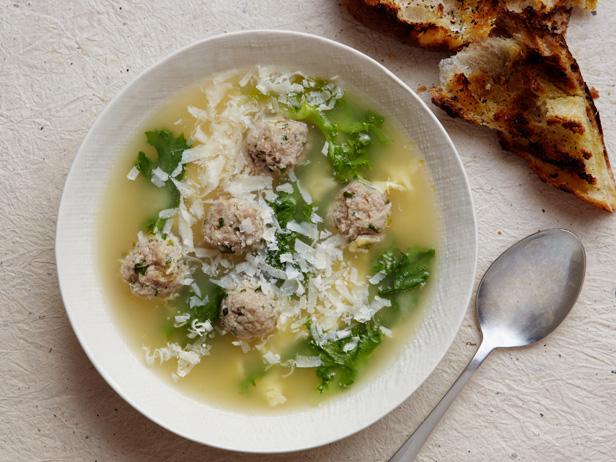 More Italian flavors enrich this traditional soup recipe, tweaked a bit by Giada de Laurentiis for the Food Network.
15. Lemony Chicken and Orzo Soup
This Greek-inspired soup from Epicurious depends on the lighter flavors of lemon, dill, and leeks to make your taste buds happy.
16. Thai Coconut Shrimp Soup
An AllRecipes user offers this incredibly tasty soup-of-the-sea.
17. Caldo de Res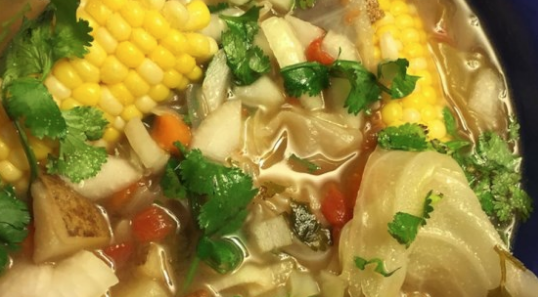 A hearty Mexican soup, including this beef stew recipe from AllRecipes, makes us all happy.
18. One Pot Lemon Chicken Soup With Tortellini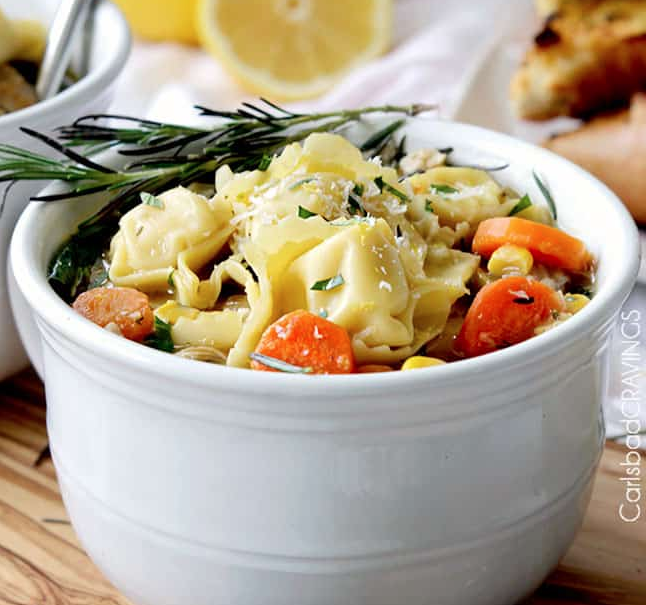 This stunning, 30-minute recipe comes from Carlsbad Cravings.
19. Italian-Style Beef-and-Pepperoni Soup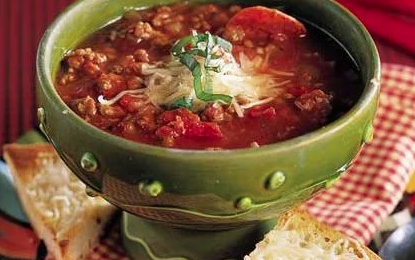 A healthy take on pizza in a bowl comes from My Recipes.
20. 
Black Bean Soup with Chipotle and Toasted Cumin Seed Crème Fraîche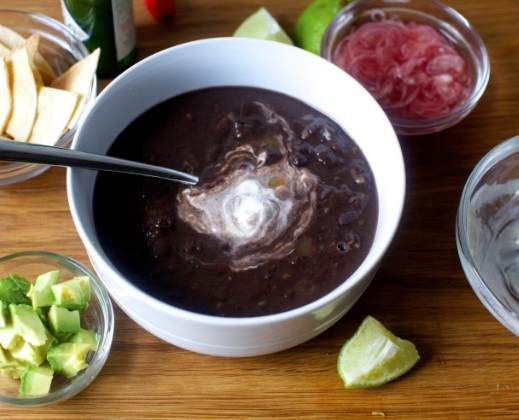 Smitten Kitchen gives us this classier version of the traditional (and budget-friendly) American black bean soup.
21. One Pot Chicken Fajita and Rice Soup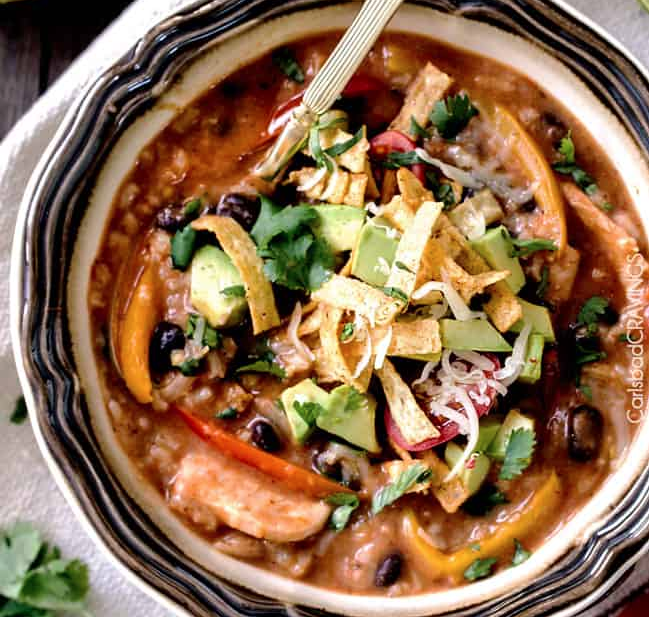 A fairly simple recipe, this recipe isn't shy about cheese at all! It's a new take on the old chicken-and-rice soup from Carlsbad Cravings.
No more boring soups or chilis! Let me know in the comments if you've tried other recipes for feeding a crowd that you'd like to share!