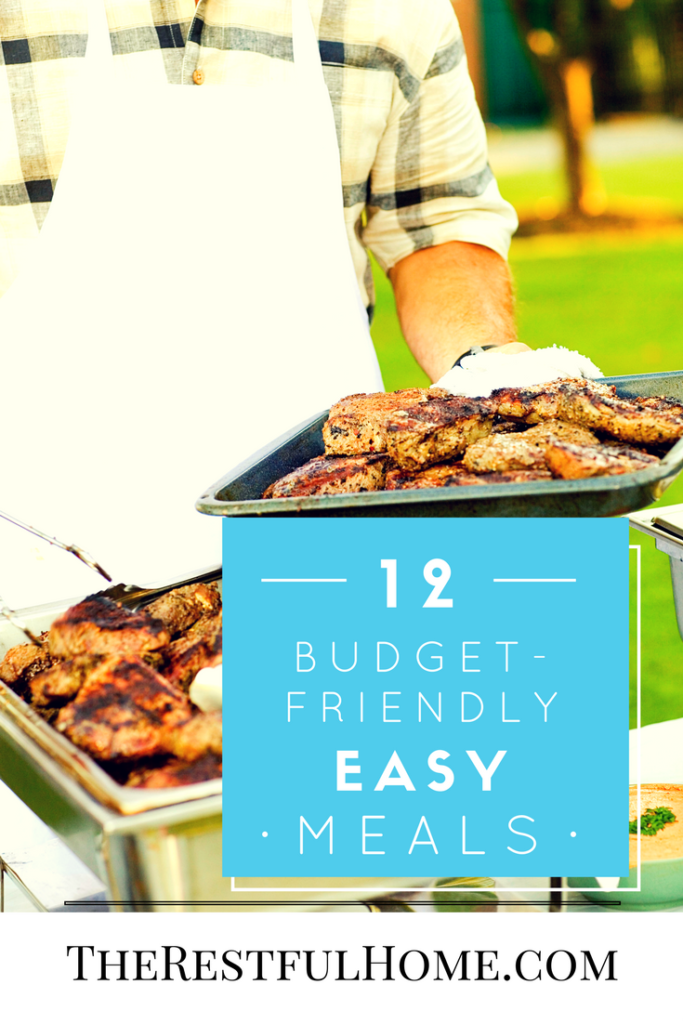 Maybe hospitality is an area in which you've wanted to improve for so long, but it seems overwhelming. You've seen the pictures in the magazines of people smiling happily around a table with steak, a gorgeous cranberry-arugula salad, and perfect little apple tarts. You've smiled, closed the magazine, and thought, "There's no way I can get all that done without burning half of the meal and forgetting to prepare the other half!" Then you've peeked at the picture a second time and thought, "And they're using a real linen TABLECLOTH?!" (People do that?)
Surely I'm not the only one who has had these thoughts?
Embarrassed to serve hot dogs to anyone but your husband? That's where this list of 12 budget-friendly, easy meals will come in handy! (Don't be shocked when you see hot dogs are on the list!) After I had Baby J, I was afraid at first to have people come over because I wanted to be able to pull the fresh bread out of the oven and the chicken and vegetables off the stove just as they walked in the door. All at the same time. That just wasn't doable with a baby who needed to nurse at the most inconvenient times, or who suddenly had a dirty diaper. But I've found that I can still have people come over, and that they won't be disappointed if I don't have a meal straight out of Paula Deen's kitchen on the table. I just have to be realistic and count the time I get to spend with them as more valuable than keeping up my self-imposed image as the consummate chef with an always-clean house (ha!).
How can we relax?
[clickToTweet tweet="We have to change our expectations from the pages of a magazine to the reality of our messy lives." quote="We have to change our expectations from the pages of a magazine to the reality of our messy lives."] It's not the end of the world if the fresh bread comes out halfway through the meal—or never shows up. If we don't have large blocks of time for cooking, we can switch to making easy meals for friends that we can cook throughout the day.
To make our life simpler and reduce the clean-up, occasionally paper plates and red Solo cups stand in as china when we're sharing a meal with our friends. That happens often when we're hosting a large group or a family with several young children. And you know what? I'm pretty sure most of them are just happy to get to spend time with someone and not have to cook a meal that evening! (By the way, you'll notice that this list shares many characteristics with my Lactose-Free Freezer Meals!)
Bonus points for this list are that many of these recipes are wayyyyy healthier, yummier, and more budget-friendly than what you would get at a typical restaurant. (Seriously, y'all. I can often feed 8 people on what it would cost just David and me to eat at a low-to-midrange restaurant.) So here we go:
12 Budget-Friendly, Easy Meals (with some links to recipes-hover over titles)
Because you can make the potato soup hours ahead of time (or even the day before and heat it up the next day), this soup is a great option for moms with babies or toddlers who constantly need you. You can work on it in shifts, as I do. Baby J is sleeping—I think I'll peel those potatoes now! Oops—he woke up again. Stick 'em in the frig and start again later! The funny thing about this soup is I use a lactose-free recipe (I add bacon to the linked recipe!) and then pair it with grilled cheese! So the lactose-intolerant have to skip the sandwiches.
2) Grilled Bratwursts, Corn and Bean Salad with Tortilla Chips, and Chocolate Chip Cookies.
Pick up the brats, buns, and chips at the grocery store, make the cookie dough the day before or that morning, and stir up the salad anytime. My mother-in-law found the recipe and it's usually a crowd-pleaser and a super-easy, fairly-healthy side dish. Hint: add the avocado right before you eat if possible so it doesn't mush into the salad and disappear. Don't have an avocado on hand? Just skip it! On the cookies–you can buy dough, OR you can try this jaw-stopper of an amazing recipe. It's my favorite. And it's the first cookie I ever made for David, a week before we started dating. (Clearly, those things are connected. Except he kind of thought we were already on a date that evening. With an entire family of folks with us. Um…no.)
We had this torte (minus the berries) at our wedding because 1) I really dislike the taste of traditional wedding cakes, and 2) I didn't want to spend $500 on a cake I really didn't want to have to take a bite of. It's still a favorite. And this chicken? (Recipe in this article.) Oh, my goodness! Since a friend introduced me to this stuff, it has been my go-to when I need to just throw some chicken in a crockpot and call it a day. David LOVES it and wishes I had those kinds of days more often so he could have Italian chicken for dinner.
4) Pan-Seared (or Grilled) Chicken, Spinach Salad, and Chocolate Chips.
Just marinade the chicken ahead of time—if you have time—in a little soy sauce, Worcester sauce, onion and garlic powders, and red wine vinegar. Then sear it quickly and pop it into a Dutch oven to finish cooking all by itself. With onions, please. Delicioso! The spinach salad can just be fresh spinach leaves mixed with some chopped tomatoes and whatever you have on hand and enjoy. A handful of pecans, some tiny chunks of carrot for color, or a small handful of chopped green onion blades.
You think I'm kidding about the chocolate chips? Nope. One of the couples who has stayed overnight with us or just stopped while passing through loves chocolate chips as much as we do. When they're here, we just pass around the bag. If you want to get "fancier," provide peanut butter spoons and tiny individual bowls for the chocolate chips. Or call me crazy and go buy some Oreos.
5) Roast Chicken, Spinach Salad, Dinner Rolls, and Brownies.
Make the roast chicken yourself ahead of time and then let it cook for hours until company arrives—OR just run to Walmart and pick one up for $5.00. I love to make bread, so I usually try to make the rolls myself, but most people will love ones from the bread aisle just as much as freshly made bread. Brownies? Don't get me started! They're easy and the best thing in the world you'll ever eat. Try THIS recipe for a small crowd. And THIS one for a large crowd. And THIS one for someone with an intense sweet tooth! (David likes it better without the dulce de leche.) In fact, do yourself a favor and just forget about the chicken!
6) Hot Dogs, Potato Chips, and S'Mores.
Yes, the infamous hot dogs. Why not make your own tiny bonfire when the weather's nice and invite friends over to roast hot dogs? Have them pitch in and bring one thing—graham crackers, or a couple Hershey's bars, or a bag of chips. If you can't take the idea of hot dogs, would corndogs work for you? 🙂
7) Spaghetti with Meat Sauce, a Salad, and Breadsticks.
When it's just us, David prefers that I make Italian-style meatballs for the sauce. But those can be stressful for me to try to make for a big crowd. Most people are just fine with having some ground beef browned and then mixed in with a jar of canned sauce! My mom would often make this (adding extra tomatoes and seasonings to the canned sauce) for big crowds.
Pulled pork is so easy! I let it terrify me for years, but you can make it in a crockpot! I use this recipe as my basis, but never add the oil and butter because my pork always has more than enough fat. The lemon bars are even better when they've been chilled in the refrigerator for a while. I also add at least 2/3 cup of fresh lemon juice instead of what's listed in the recipe, plus a little grated lemon zest, because I LOVE lemon.
9) Sloppy Joes, Chips, and ask-someone-to-bring-a-dessert 🙂 
It's okay to ask for help! A lot of times people want to contribute to the meal, and dessert is usually something they can pick up at the store on their way from work to your house. That's especially helpful if you're inviting lots of singles over who don't have time or a kitchen for cooking much. About the Sloppy Joes–I've actually never tried it with celery. But what a great way to sneak in some extra flavor and health!
10) Taco Salad [meat, lettuce, tortilla chips or Fritos, canned salsa, Fiesta blend cheese, fresh tomatoes, whatever else you like!]
I can't tell you how often my mom served this to crowds. Simple, filling, and delicious! You can serve a dessert with it (ice cream, anyone?), or let it stand alone. My husband prefers to leave the lettuce (salad) part out of his taco salad and go heavy on the meat. You can either serve browned ground beef (seasoned with chili powder, salt, and garlic powder—or a seasoning mix) or stir-fried strips of chicken breasts with the same seasoning.
11) Hamburgers, French Fries, and Cooked Spinach
Feel free to buy a bag of frozen French fries! I don't like to make this meal when I'm expecting a lot of people unless someone wants to grill the burgers for me. If I'm frying them in multiple pans to get them done at the same time, and Baby J needs a diaper change, I will quickly get overwhelmed and/or burn them all. Cooked spinach is super easy! Lightly toast some fresh garlic cloves in olive oil and then dump in a bunch of pre-washed spinach (remember, it reduces a LOT as it cooks) and a pinch of salt.
12) Make-Your-Own Omelets
This meal is fun when you have a group of young singles over—I wouldn't do it with young families or most seniors. Just have on the counter a couple cartons of eggs, a whisk, some things to add (like mushrooms, fresh spinach, cooked ground sausage, shredded cheese, hot sauce), a bowl, butter, and a pan for cooking. A variation is to make scrambled eggs and sausage or bacon (breakfast for dinner!), which is a great meal usually to cook for someone who is gluten-intolerant. Or, if they're NOT gluten-intolerant, PANCAKES! 🙂
So Many Options!!
Those are 12 of my favorite low-stress, low-budget meal ideas that work for even large groups of people. There are also so many more crockpot options, casseroles, and soups (vegetable soup, chili, stews) that you can make ahead of time to feed a crowd or just a couple of friends who've come over to play a game. Also, sometimes I slip in some quick, easy, stir-fried broccoli. Because even if no one else likes it, it's my favorite and I could eat it every day.
What are some budget-friendly, low-stress meals you've often made for friends? Let me know in the comments!