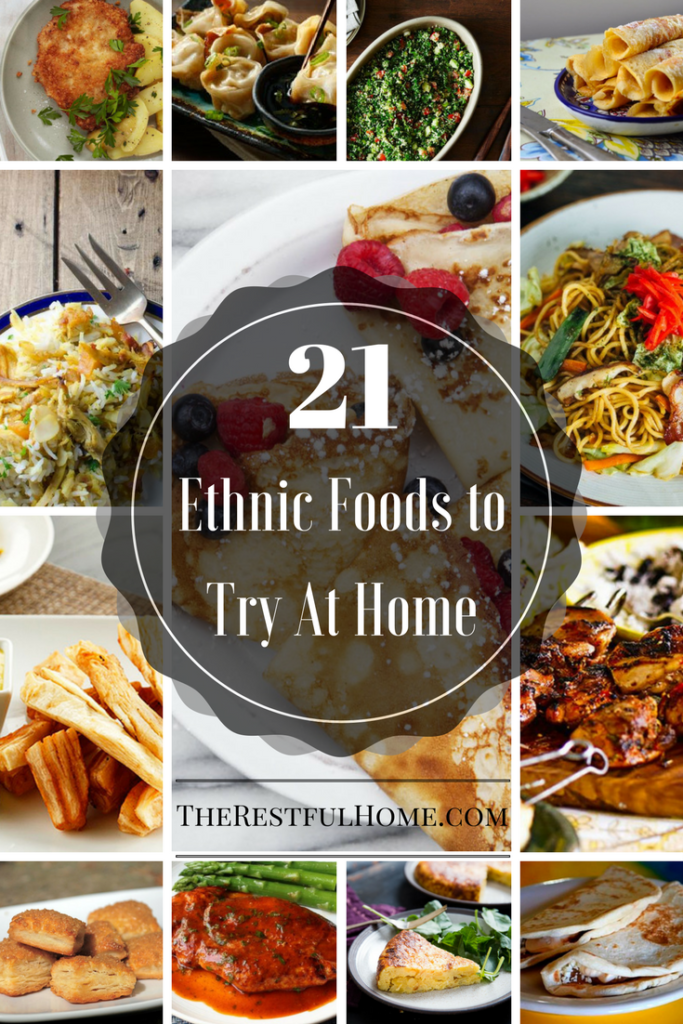 Stuck in a food rut? Consider replacing your tried-and-true meals with some of these ethnic foods that taste fabulous and aren't that hard to make at home. Your taste buds will thank you.
Obviously "ethnic foods" will mean something different to everyone, depending on where you live. I'm writing from the perspective of someone with English & Scandinavian roots who is married to an Italian guy. I am not including any Italian or English recipes, but I will have to throw in one Norwegian specialty you may not have tried before: lefse! I'm also leaving out Mexican foods, because most of my readers are from the United States, where Mexican food is already VERY well represented. (Especially here in the South, where almost all of us have our Tex-Mex stand-by recipes.)
21 Ethnic Foods You Should Try At Home
Asian
Pad Thai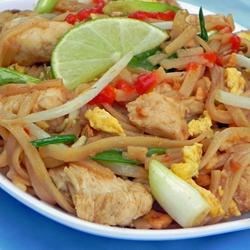 I still haven't made a pad thai that tastes as good as the first one I had in a small, authentic restaurant in south Houston, but I enjoy making it for friends who also love trying out ethnic foods. (This one's not for my husband.) If you follow this recipe, I recommend you read all the reviews and double or triple the sauce. Lots of cilantro, chopped peanuts, and fresh limes for squeezing help make this dish a stand-out on your dinner table.
Chinese Dumplings
I've made dumplings from scratch with a friend from Beijing who was VERY particular about the thickness of the dough. After that, I decided that even though Chinese dumplings are just about my favorite thing to eat in the world, I would never make them. However, there's something very handy-dandy in the grocery store: pre-made dumpling wrappers. Here's a "fast" recipe I tried recently from the New York Times' cooking website. Note: these tasted delicious, but caused some drama in the kitchen because I became overwhelmed by making them by myself while my little boy was whining for food and laundry needed to be switched over. Real life will probably mean I rarely make these, no matter how good they are! 😀
Spring Rolls
If you can find an Asian market nearby (we have one about an hour and a half away), you'll be able to find spring roll wrappers sold cheaply. They're much thinner than an egg roll wrap. My friends from Taiwan and China never made me egg rolls; it was always spring rolls. Here's a recipe to try, but you can always just use whatever veggies you have on hand (we used to always use shredded cabbage, carrots, and green onions).
If you don't feel like taking the extra step of wrapping and baking or frying all those rolls, just the filling by itself makes a great stir-fry meal.
Yakisoba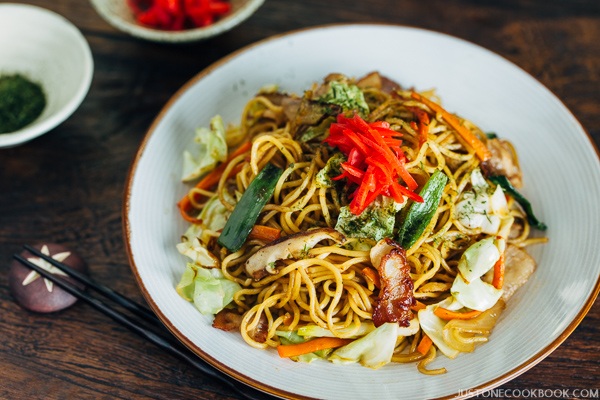 I used to make a delicious version of this Japanese dish with deer meat when I was a teenager still living in a home full of hunters. I wonder what a Japanese person would think of that…Anyway, Yakisoba is a yummy meal that's easy to adapt. Here's a recipe with detailed instructions, pictures, and alternative options. It makes me want to try again without the deer meat.
Central American/Carribbean
Baleadas
Beans and eggs have never tasted so good. Baleadas were, along with pineapple-filled pastries in bakeries, my favorite part of Honduran cuisine. Here is a sample recipe in English. (By the way, store-bought tortillas do not really make a good baleada.)
Ropa Vieja
Ropa Vieja (literally "old clothes") is the Cuban Sloppy Joe. Rachael Ray gives a version of it here on the Food Network.
Yuca Frita
Yucca can be one of those ethnic foods that takes some time to learn to love. I never did learn to love its starchy consistency in soups in Honduras. However, fried yucca (when cut into small enough strips to get lots of crunchies!) is the perfect companion to beans and corn tortillas! I told Candida, my Honduran mamá, that in my hometown people only grew yucca for decoration in their yards. She looked at me with compassion and told me maybe I could go home and let them know they could eat those plants out there in the flowerbed. 🙂 Yuca frita is a standby in Carribean culture, from Cuba west to Honduras. (And, actually, south to Peru.)
South American
Arepas
In Costa Rica, arepas were just like American pancakes. In Colombia, they're something entirely different (think cornmeal-ish). The arepa has spread to Venezuela, Ecuador, and other South American countries. (How do I know? I used to have an Ecuadoran housemate who had a Colombian boyfriend.)
Frango Churrasco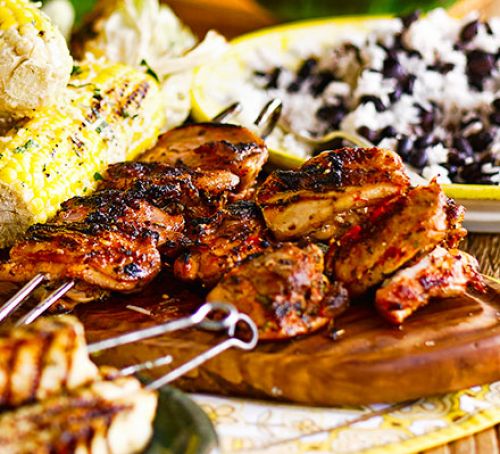 Brazilian grilled chicken? Sign me up! Here's a super-easy recipe.
Pastelitos de Dulce de Leche
Pie dough and dulce de leche? What more do you have to say? 🙂 This is a good recipe to try when you have leftover pie dough scraps. You can find dulce de leche in the Hispanic section of your local Walmart/grocery store. It's a lighter, and to my taste way more delicious, version of caramel.
African
Algerian Couscous
A lovely student of mine from Algeria made couscous with lamb and chicken for me one time. Hers had similar ingredients to this recipe, but it tasted as though she had poured the liquid from a jar of olives over the couscous. I liked everything about the dish except that green olive taste. (I want to like olives, I really do!) This recipe, though, is olive-free.
Ethiopian Berbere Chicken Breasts
Berbere is a truly delicious spice blend and adds a wonderfully rich, hot dimension to everything. My Ethiopian students made me some of the best food I've ever had, and I wish I still lived near them and could learn how they cooked injera and wat. Here is a link to the chicken recipe. and several other Ethiopian recipes that I really want to try.
Mikaté
The central African version of doughnuts! One of my ESL students from the D.R.C. told me about these. I haven't tried them yet, partly because I don't think cassava flour is sold around here. Also, while I absolutely love most ethnic foods, I usually prefer dishes that come from the north or east of the African continent.
Middle Eastern
Biryani
The best biryani I've ever tasted was made by a young lady from Afghanistan. This dish is an incredibly tasty one-pot meal, and I can't wait to try this recipe from Food and Wine.
Dolma
Whenever we are in a town with a Middle Eastern restaurant, I order dolma. Or stuffed grape leaves, depending on whether the owner is more Iraqi (dolma) or Greek/Lebanese (grape leaves). Not all dolma are created equally. I have a weakness for the soft, drippy ones with meat inside and LOTS of lemon squeezed over the top. Here is the Iraqi recipe I want to try after combing through dozens of recipes.
Lebanese Tabbouleh
Tabbouleh is that parsley-heavy salad you see in Lebanese choose-your-sides restaurants. It would be a great side for grilled fish. Here's an award-winning recipe that I've had stored up for quite a while, waiting for the moment I find bulghur.
European
Crepes
Many of my fellow volunteers at the orphanage I volunteered at for a few months in Honduras were Danish. They introduced me to the glories of a delicate European crépe. I think I like it better than our American version: the pancake. You can put anything inside the rolled-up crépe–Nutella, jam, fruit, peanut butter, powdered sugar, or my favorite: dark chocolate chips.
Tortilla Espanola
Eggs, potatoes, and onions–simple, delicious, and straight from Spain. Here's a yummy version from Serious Eats.
Pork Schnitzel
The original German Schnitzel probably didn't use Japanese panko crumbs, but they sure do make our life easier now. Here's a recipe from a chef on Food & Wine.
Norwegian Lefse
Lefse is pronounced "lef-suh," and it is the Norwegian potato version of a tortilla or crepe. Lefse is time consuming. However, it's fun to make with lots of family members and it tastes absolutely scrumptious with butter. (I could sit and eat my aunt's lefse all day long.) Here's an easy version made with instant potatoes (quick and painless). And here's the real deal. (Yes, you can taste the difference.) Cook them until their bubbles are golden brown (again, like a tortilla), and then butter them and roll them into heavenly lefse cigars.
Wait! What about Australia and the Pacific Islands?
Mango Salsa
The bottled version of mango salsa hit U.S. grocery store shelves a while ago, but I have a feeling this recipe tastes a bit more authentic. Fresh mangoes (especially if you live in a place where you can buy them just-picked) are sweet, slightly tangy mouthfuls of delight.
Just going through all these recipes has made me hungry for an international smorgasbord. Ethnic foods might mean something different to all of us, depending on where we were raised. But food, whatever its origin, speaks all of our language. Branch out and enjoy something a little different!
What are your favorite foods?
Do you like the traditional foods you were raised on best, or do you like to try foods from other countries? Let me know about some more foods I need to try –> in the comment section below. 🙂 Buen provecho and bon appetit!