With kids, getting a good night's sleep becomes much more difficult. But your amount of sleep often makes a huge difference in your attitude! The following guest post comes from Sara Westgreen, a writer for the sleep science hub Tuck.
This is NOT a sponsored post. 🙂 We hope you find some of the tips useful!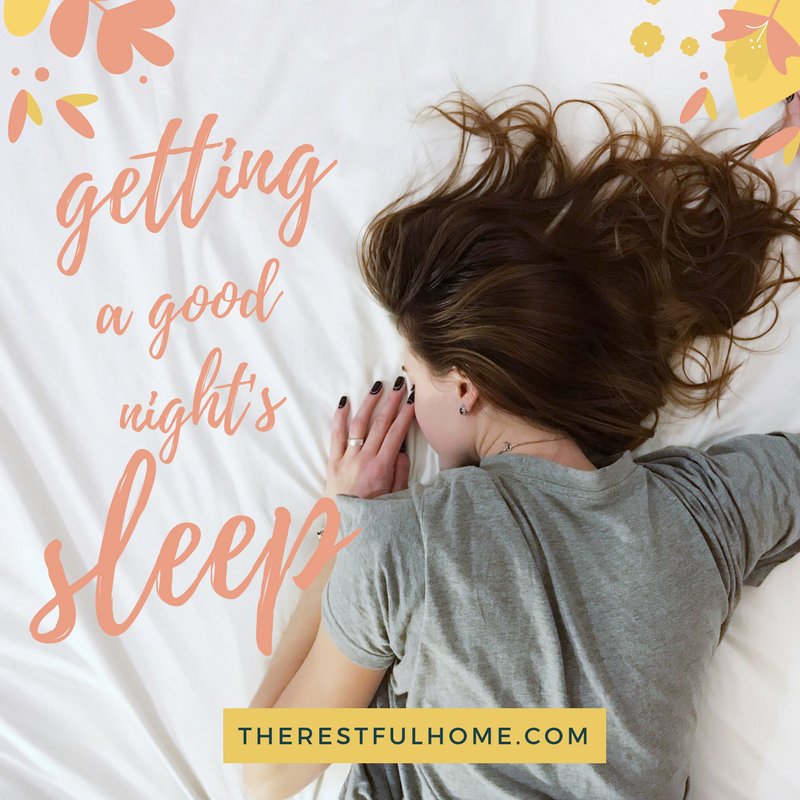 How to Get a Good Night's Sleep
We all need sleep to function at our best every day. And a good night's sleep starts with a healthy sleep environment. Everyone needs a comfortable, cozy bedroom for the best setting for sleep every night.
Setting up a comfortable bedroom doesn't have to cost a fortune. But don't forget it's not just your mattress and bedding you need to consider: your color scheme, curtains, and other parts of the room can influence good sleep as well.
Why Sleep is Important
Why getting a good night's sleep is important, especially for kids and moms.
Sleep is vital to your health, both mental and physical. When you're short on sleep, you simply aren't functioning at your best. This can lead to difficulty with concentration, mood, and certain health issues, including obesity, diabetes, and a higher risk of accidents.
Sleep is especially important to children and parents. Children who don't sleep well may struggle behaviorally and academically. This can put them behind at school and lead to frustration socially and at home. Parents are often already stretched thin, and poor sleep can only exacerbate the exhaustion at a time when you need your energy more than ever.
Setting Up a Comfortable Bedroom
Although sleep hygiene including a regular sleep schedule and bedtime routine are important, healthy sleep starts with a comfortable bedroom. Your bedroom should be cool, dark, quiet, and comfortable, but you don't have to spend a fortune to make it that way.
Choose an appropriate mattress and pillows. Your mattress and pillow should be ideal for your body weight and sleeping style to keep your spine properly aligned. Choose the right mattress size for your needs, keeping in mind that children, couples, and adults of different sizes may have particular mattress size needs.
Remember to wash your bedding at least weekly, and invest in a hypoallergenic mattress cover to protect against stains, bacteria, and dust mites. Replace your mattress when it's past its useful life, or when you start waking up with aches and pains or notice stains, sagging, or visible signs of wear.
Your bed should be positioned away from the door to minimize light and noise. Choose a bed size that will physically meet your needs, but won't take up too much space in the bedroom. A cluttered bedroom can be stressful and make it difficult to sleep well.
You can save money by carefully assessing your needs rather than making assumptions based on marketing. Consider whether you need to buy a $4,000+ California King sized mattress on a giant bedframe from a retail store — or whether a smaller one bought online would do. A smaller mattress with motion-isolating materials could be cheaper and just as restful, even for a couple.
Consider More Than Your Bed
A comfortable bedroom is made up of more than just your bed. The wall color, curtains, scent, plants, and more can make a difference in how well you sleep. Consider these factors when creating a restful sleeping environment:
Clutter. Clutter can sabotage your sense of calm as you sleep. Get rid of clothes and other clutter littering the floor or other surfaces. Be sure to properly store unused items so they are out of sight for a more calming sleep environment.
Color. Your bedroom walls can influence your mood. Consider calming, light pastels, or a darker color that can make your room feel cozy. Consider colors that are parallel to each other on the color wheel for calming pairings. Avoid bright reds or oranges, which can be too stimulating. Often, blue is best, as it promotes calmness and can reduce blood pressure and heart rate.
Aromatherapy. Your room's scent can be relaxing and make you feel good. Consider using a laundry detergent that you enjoy smelling, or spray your bedroom with scents such as lavender or eucalyptus. Candles can soften room lighting and calm your mind with pleasing scents. Of course, you should remember to blow them out before you fall asleep.
Temperature. Most people sleep best around 65 degrees Fahrenheit. Cooler temperatures can make it easier to sleep comfortably and feel cozy under blankets. Set your air conditioner for the right temperature, or use ceiling and floor fans to cool your room.
Light. Too much light in your bedroom at night can interfere with your ability to sleep, as light signals to your brain that you should be awake and alert. Conversely, you should be exposed to light early in the morning when you wake up so your body understands it's daytime. Blackout curtains can help keep your bedroom dark and cool and night, and you can open them in the morning for a shot of light to wake you up. You should keep electronics out of the bedroom and avoid screen time before bed, as the light from blue screens can interfere with healthy sleep.
Noise. Noise in your bedroom can be particularly jarring. A quiet bedroom environment offers better quality sleep. Consider using earplugs at night, or create white noise with a fan, humidifier, or white noise app.
Sara Westgreen is a researcher for the sleep science hub Tuck. A mother of three, she sleeps on a king size bed in Texas, where she defends her territory against cats all night.