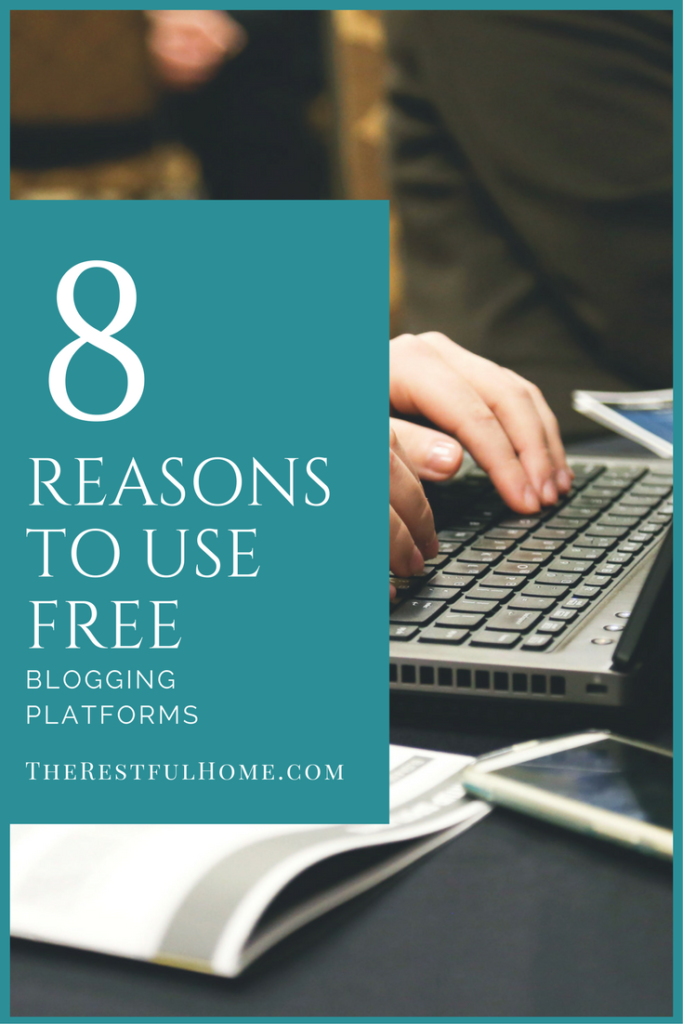 I have been blogging on-and-off for about ten years, since I was a teenager. Writing has always been my passion, and I wanted to share my thoughts with the world! Mostly, though, as a teen, I was just updating information about my family's bluegrass band. Later, I wanted to share information about volunteering with refugees after having volunteered as an ESL teacher. Both of those were perfect topics for which to use free blogging platforms.
8 Reasons to Use Free Blogging Platforms
1. You want to share free information with others without it costing you money.
For example, with my volunteer-focused blog, I really wanted to encourage others to help and give them practical ways to do so. I wasn't trying to make money, just being helpful. And I didn't want to pay a monthly fee to be helpful. A free WordPress.com account was absolutely perfect.
2. You don't need to make money with your blog.
WordPress.com has a great reputation, so I used it for the volunteering blog. I was happy with the cleanliness of the interface, but when I started thinking about choosing my own ads instead of just being stuck with the ones WordPress put on there, I didn't have that option. Google Ads don't work for the blogger on free WordPress.com. I have also used Blogger, which easily works with Adsense and Adwords because it's also in the Google family. However, I never made more than a few cents on a bluegrass festival niche site run through Blogger. (Mostly because it's a very small niche, but also because Adwords pays very little.)
3. Your professional image isn't dependent on your website.
At one time, our bluegrass band did have a self-hosted website. Instead of using Bluehost back then, we used IX webhosting, which was super cheap and, unfortunately, had lots of downtime. I got to learn about crazy webmaster things like FTP clients during that journey. I just went ahead and integrated our blogspot.com blog with the real website because it was SO much easier to update than our clunky iWeb-designed webpages. We weren't famous musicians, so we didn't have to wow people with our website. I would say the same is probably true if you have, say, a small welding business you're trying to promote. If you don't mind having a few ads on the side that are making money for someone other than you, free blogging is for you.
I would like to add, though, that there are so many free themes for use in the free blogging platforms that if you have a good eye for design and can figure out the most basic aspects of coding, you can definitely make your blog look somewhat professional (other than the ads you didn't choose). And my hat's off to you if you do a good job of it. Design is something I'm learning about but certainly not good at yet.
4. Your budget is to0 tight right now to pay a monthly fee for webhosting.
…Or you think it is. I hate having any monthly fee, so I really dragged my feet about paying for webhosting. However, we're only paying a few bucks a month for really great webhosting for The Restful Home with Bluehost.
If you want to go ahead and get started for free, you can always migrate your blog to a paid (self-hosted) website. There will just be some extra steps for you later.
5. You are very busy and need your blog up yesterday morning.
Blogger, especially, makes it so easy to start a blog. It really is like 1-2-3. If you already have a gmail account, I don't think Google even makes you come up with a new password. (I started my first blog with an old Yahoo email account.) The only thing that will slow you down on WordPress.com/Blogger is looking for themes. There are so many great free ones that you will probably want to browse for quite a while to find the perfect one. The free version of WordPress is also fairly intuitive, and many people think it looks more professional to have a "wordpress.com" tag instead of "blogspot.com" on your web address.
6. You want to post family updates or basic information about your business.
Some friends of ours keep a blog of family updates for close friends and family to visit. We can go there to see pictures of the family and read about high school or college graduations, etc. Another friend writes updates of her journey of volunteering in different countries. It's a great idea for information that's not very private (since anyone can drop by–so don't post your home address or any pictures that show your home address!) and a fun way to stay connected with others. Since Blogger and WordPress.com have always been free, and will be for the foreseeable future, you will have your family journal hosted without any cost to you!
The same is true about a small business. If you need to post information about opening/closing times, or the cost of certain jobs, etc., Blogger or WordPress.com are both great options for you. I would recommend setting up a Facebook account for your business, as well, but it's a really good idea to have a "real website" outside Facebook.
7. You want a place to connect with others without having to write long pieces of content on a regular schedule.
Coming up with good content and finding the time to regularly write articles that are over 1,000 words can be stressful. (I use 1,000 as an example, not a set-in-stone goal, just because it's often difficult to write a detailed, helpful article with a lower word count that that. When I have written a feature article for a magazine, they usually have asked for about 1200 words. This article is close to 1,200 words, to give you an idea of what that looks like.) If your goal is just to share small snippets of your life, then the furthest thing you need is the stress of a professional website. Interacting with other bloggers from a free WordPress or Blogger account is actually easier because they are better integrated with other platforms. (In my opinion, anyway, and from my experience of trying to comment on or follow other websites/blogs.)
8. You aren't quite sure if the blogging life is for you.
If you don't know if you want to write all the time (and temper your opinions for a particular audience), a free blog is definitely the place to find out!
To Sum It Up:
Free blogging platforms have allowed me to share longer snippets of my life than a Facebook post or Tweet without ever having to pay for the privilege. After ten years of using them as family-updates, info-share spots, and small-business information (the bluegrass band), I can say they helped me learn so much about blogging without hurting my pocketbook in any way.
Do you have any other reasons to use free blogging platforms? I'd love to hear from you in the comments.
By the way, obviously this is a self-hosted site. (You can see it's just "therestfulhome.com" instead of "therestfulhome.blogspot.com or .wordpress.com.) After 10 years and some recent encouragement from my husband, I decided the blogging life was for me after all, and I went with a fairly inexpensive designer theme and very inexpensive webhosting with a free domain name (that's the name for our own website address, "therestfulhome.com"). If you'd like to try Bluehost and get a free domain name through our affiliate link, check it out HERE.